Tropical Heritage Garden Diary:
April 2013:
2 April:
Black Seeded Sesame, Miriah Amaranth, Aswad Eggplant, Pasilla Bajio hot pepper, Red Marconi sweet pepper, Red Creole Onion and Tokyo Long White Bunching Onion
planted in paper pots. To test germination and aid recognition.
Paper pots were three-quarters filled with mixture of damp earth and coconut chippings. An inch thick layer of coconut chippings was then added. The Sesame seeds were planted under the coconut layer -but the other seeds were surface sown, on top of the chippings. Then pushed slightly under -to cover them from passing birds. The pots were put inside coconut shells and placed on the "
Pechay station
".
5 April:
Lots of rain in the night -so a good day for planting with temperatures around 30 degrees centigrade.
Some of the squash look as if they are already forming flower buds -but which ones? In order to find out -planted 2 seeds of each type
(Lemon Squash, Zucchini-Gray, White Bush Marrow
and
Seminole Pumpkin)
again -with labels: One each, in the original squash patch and the rest in various empty locations amongst the kangkong.
Some seeds from a
market bought Squash
were also planted in various locations scattered around the garden.
Supermarket bought
(Chinese)
Patola
(luffa gourd),
Upo
(bottle gourd) and
Ampalya
(bitter gourd) were planted along the chicken fence -and in various small hills -with each other -or mixed in with other climbing plants.
Peanuts
were planted (as soil improver) in the
Ginger
bed, around
Banana
trees and in a few vegetable beds.
Supermarket bought (Chinese)
Eggplant
was mixed with mud (
to protect it from the chickens
) and thrown down in the open areas near where the winged beans are growing. This was to see if the
Eggplant
would be able to germinate in an area already populated with (short) weeds.
Banana seeds
are a rarity -but a few days ago we bought a bunch of red bananas that had a lot of fairly well grown seeds inside. Some of these were planted in a pot.
Persimmon, Atis and Rambutan
-all given to us in November while visiting Fatima's mother (
who had saved them during the previous year
) -were also planted in pots. A previous attempt to get them to germinate failed, but maybe (the warmer) weather conditions are now better.
Finally, a small
Grapefruit
, grown from seed in a pot (this year) was planted down where the ruined section of the main gate has been turned into a fence (and already planted with
San Francisco
by
Terri
).
6 April:

In the morning, after watering the vegetable seedlings, two young
Lanzones
seedlings were planted near the side gate. They'd been grown in a pot (
this year
) from locally bought fruit. Also planted some
Honeysuckle
down by the new fence made from the old main gate. The
Honeysuckle
plants were cuttings from a plant bought in Manila, just before we moved here, which has now grown quite large along the fence near a neighbouring house.
In the afternoon, worked on building a small garden around one of the coconut trees. Several plant cuttings growing extensively in pots were split up -and either re-potted or planted in the new area -adding to the
Oregano
and
Tiger Tails
already growing there. Because the ground was exceptionally hard and stony around the tree (which was near the house and close to where people often walk) extra soil was collected from the lower garden and mixed with chopped coconut fiber. The plants were then planted in shallow cavities dug in the stony ground and the new soil spread around them (covering the roots) to give both nourishment and support.
In the late afternoon, we chased the chickens away from the area where I'd sown
Eggplant
yesterday
. We wonder how many are left. They are rather vulnerable -because it can take several weeks for them to germinate. The chickens are a nasty complicating factor -because I'm curious about the capability of crop seeds breaking through a cover of weeds. Today, some chickens were even inside the netted areas. Presumably they had flown in over the netting -so more cross-struts (or extra netting) may be required to prevent them.
7 April:
Something, presumably a lizard, has been eating the
Banana
seeds that were kept on the balcony for drying (
the first batch had been planted two days ago while still fresh
). The seeds were looking pretty dry already, so I decided to soak them for a while and then sow them in a freshly prepared pot of soil mixed with coconut chippings. The seeds were laid on top of soil, covered with a layer of chippings, and put out with the other pots to germinate.
Work also continued on the new
"garden"
under the
Coconut
tree.
Peanuts
and
Mung Bean
were planted as basic soil improvers. Four
decorative (but edible)
Chili
seedlings
(planted in coconut shells by Terri and placed on the "pechay station")
were added -plus a few cuttings from the
(pinky violet) flowering edible greens
Terri
also planted in the (non-heritage) vegetable garden. Finally, a few of the (heritage)
Amaranth
seeds were scattered (mixed with soil and ash) on an empty area where some fine potting soil had been dumped.
Old and New: from above
-and from a different perspective (below)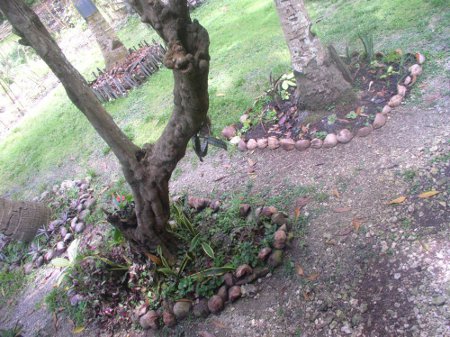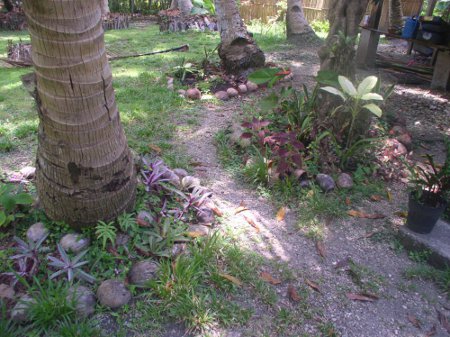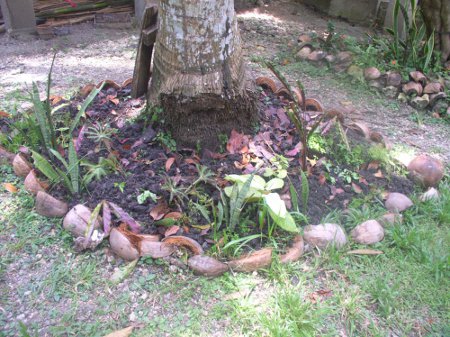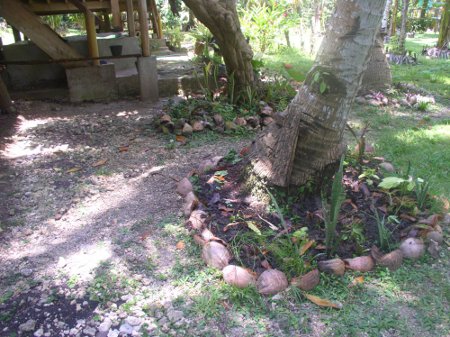 Two Close-ups: Note stony soil which needs improving to nourish trees
Planting needs to allow climbing of the trees for harvesting
A few early (
Eggplant, Amaranth, Sesame
and
white bunching Onion
) shoots from the April 2 planting
(in paper pots)
are visible.
It is very warm, but water pressure is very low today -so one cannot use the hose. Recently planted seeds need to be watered with the watering can -but the rest will just have to develop deep roots!
9 April: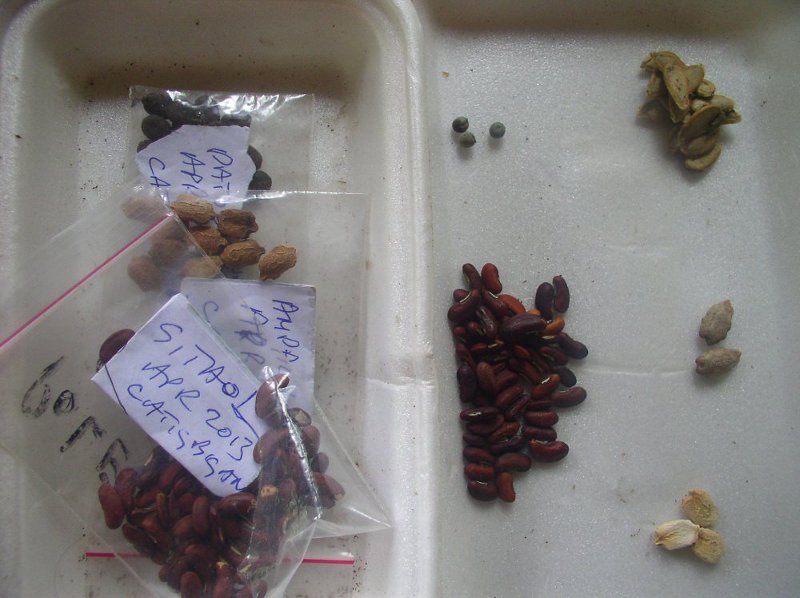 Local (

Non commercial

) Heritage seeds from Catigbigan
Busy sorting, labeling and bagging local heritage seeds our helper Penny brought back from her weekend visit to her ancestral home in Catigbigan. Two reletives (
Naning
and
Jose
) have given
Malungguy, Papaya, Okra, Squash, Sitau
(both sources).
Ampalya
(both sources),
Snake Bean
and
Patola
-plus
Purple Ginger
and a few
decorative foliage
cuttings.
A few
Patola
seeds were planted (again) along the chicken fence, where two
Patola
are already growing (but not flowering yet). Plants in this area are still struglling to grow.
Most of the Okra had been soaking all night. These were planted in the two areas next to where the
Winged Beans
are fruiting. In one of these areas there are a also few
Eggplants
struggling to flower (near the
Allubati
) -here I'd also planted new
(Chinese)
Eggplant
and
Mung Beans
, but it is possible that the chickens have eaten most of them.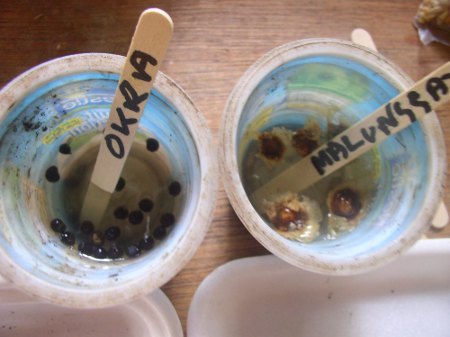 Some of the new
Papaya
from
Catigbigan
were soaked before being planted in a pot -and some were potted without soaking first. Both were labeled -so one can see the effect (if any) of soaking. Some
Malungguy
seeds were also soaked and potted.
No water all day. Only in the late afternnon could we finally water the garden. Managed the
"Southern"
garden but was just starting on the
"Northern"
garden -when rain forced me to abandon the attempt!
10 April: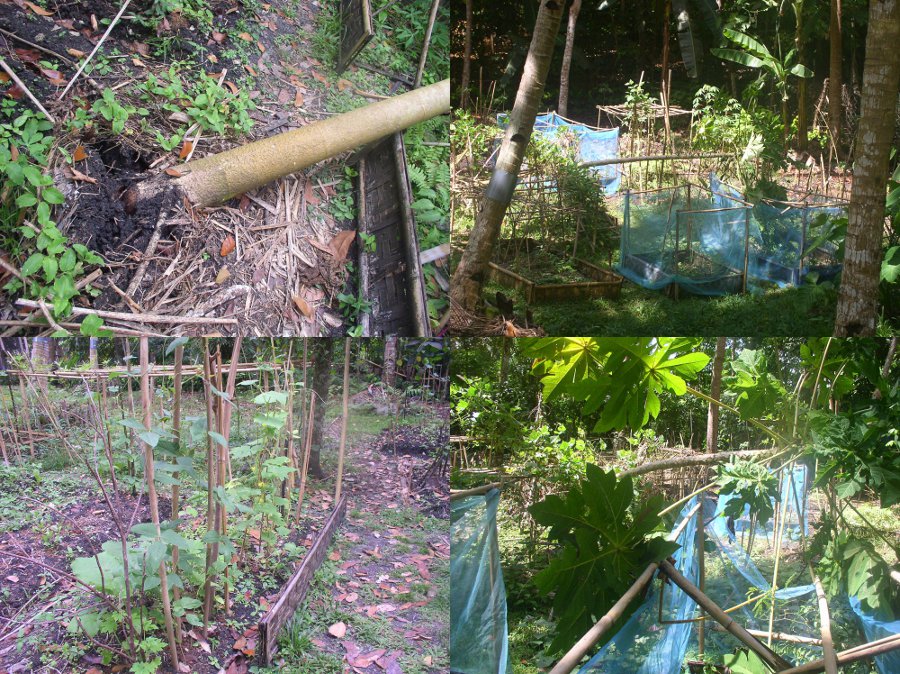 Success and
Disaster
!
Growing Heritage plants and Fallen Papyaya Tree
11 April:

Red Seeded Asparagus Bean flower and Thai Purple Podded Long Bean flower
12 April: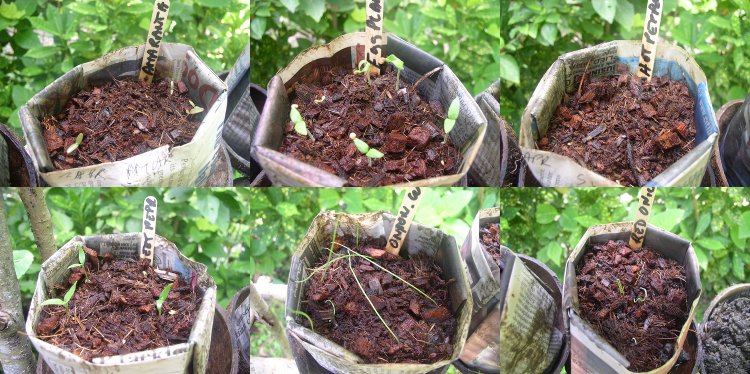 Sprouting seedlings -Planted on April 2
14 April:
Still little sign of activity from the
Sesame
seeds in the paper pots. So made a second attempt today. This time planting six seeds on the surface of the coconut chippings. The
Hot Peppers
look as if they might be starting to sprout.
The
Purple Thai Beans
and the
Asparagus Beans
seem to be maturing nicely. We should be able to pick some soon.
For the second day it is very warm and not enough water pressure in the taps to use the hose in the garden. Have managed to fill a watering can a few times and water a few seedlings in immenent danger. The rest will have to do the best they can.
Until it rains, there is little to be done in the garden, except watering, if possible.
15 April: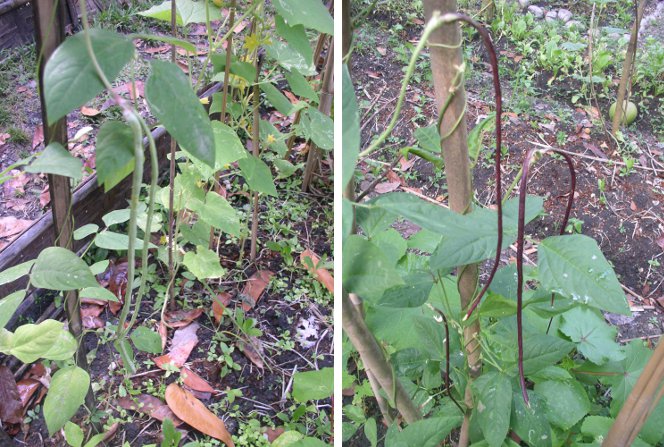 Red Seeded Asparagus Beans and Thai Purple Podded Long Beans
-almost ready for picking


16 April:
Today we hear that the mayor has asked people to conserve water as much as possible -because of el Nino and it is not known how long the hot summer without rain will last. Already, the last few days have been difficult because the water pressure in the tap has often been too low during the day to water the garden. We have often had to wait until quite late in the evening before being able to shower. A difficult time for both plants and humans.


19 April:
A few days ago we picked our first
Red Seeded Asparagus Beans
and
Thai Purple Podded Long Beans.
Good taste and nice and crunchy. Unfortunately, they were also being attacked by caterpillars. Today, I noticed the caterpillars were being dealt with by red ants.
The drought continues. Some plants are starting to wilt. However the
Cucumber
seem to be doing very well.Climbing high and starting to produce fruit -although there seem to be many more male flowers than female.
21 April:
Luckily we had several hours of sustained moderate rain in the night -so the garden is recovering.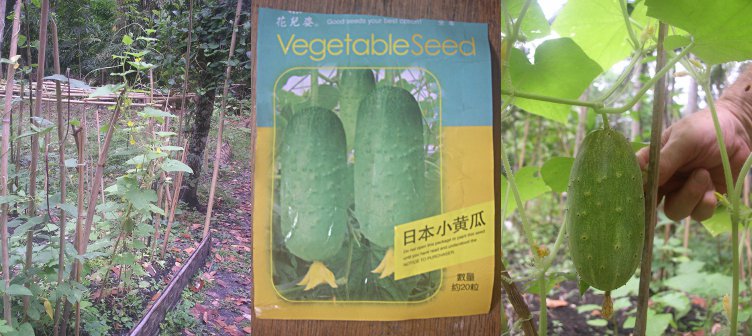 \
japanese Cucumber (Cucumis sativus Linn)
--------------------------------------------------
Botanical name:
Cucumis sativus Linn.
Family name:
Cucurbitaceae
Common name:
Cucumber, Gherkin
2n number:
14
Orgin:
India
Genus:
A genus of annual or perennial herbaceous plant having trailing or climbing habit distributed in the tropics and subtropics of the world. They are cultivated for their edible fruits. Leaves alternate, rough, pubescent; flowers monoecious, yellow, solitary, fruits pepo fleshy many seeded. Some species are medicinal and also cultivated in kitchen garden.
Species:
An annual trailing plant, originating from India. The leaves have shallow pointed lobes. The plant bears yellow, funnel shaped flowers and green-skinned fleshy fruit with white flesh. The fruits are eaten with flesh when immature. It is also used as salads.
Occurences :
Sub-tropical and tropical parts of the world.

--------------------------------------------------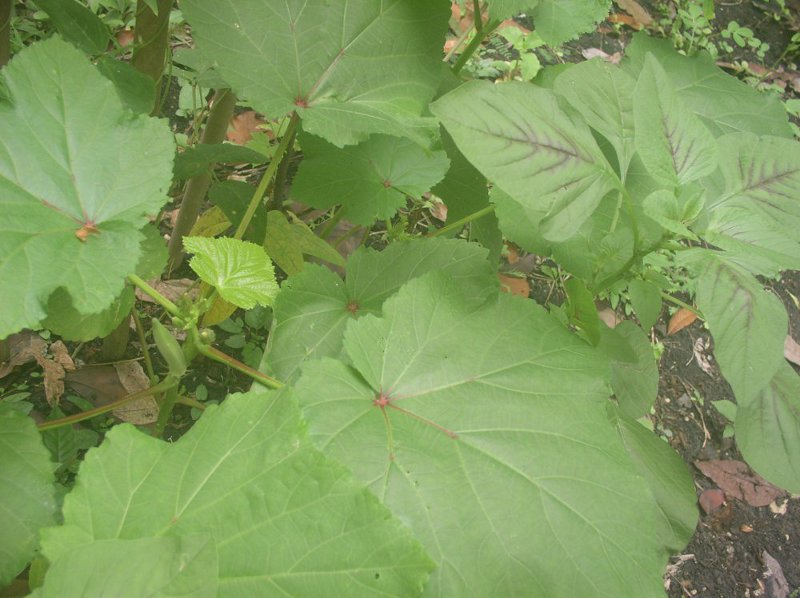 Budding Okra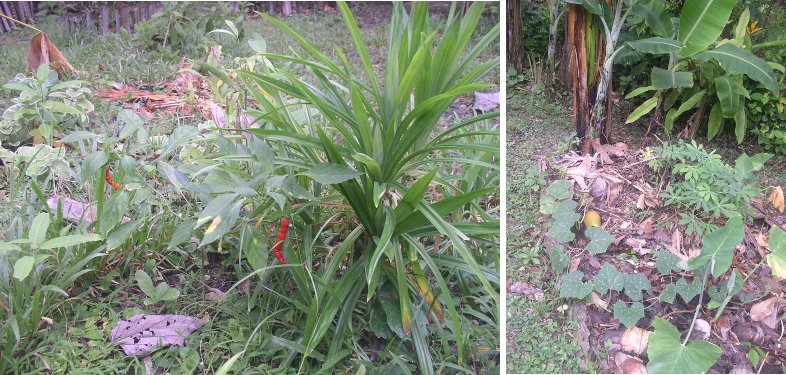 Hot pepper with Pandan Squash, Taro and Cassava on Compost heap
Growing Wild


Our Tree Trimming and Insect Control Team!

22 April:

Two (different) Cucumbers
24 April:
A baby goat born in the night -and a sprinkling of rain in the afternoon: What a lovely day!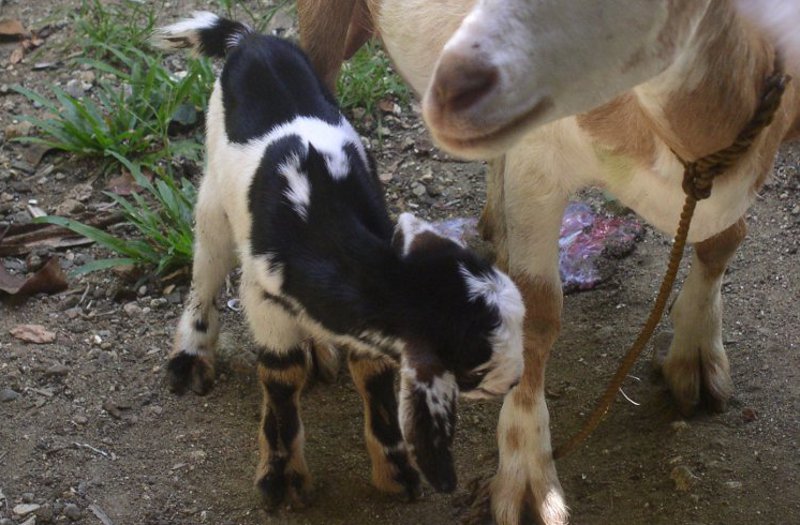 It's A Girl!
(we think)
25 April:
No rain today (by 4:30 PM) and not enough water in tap to use the hose.
Nevertheless, sowed
Wansoy (Coriander)
,
Kinchay
from
Ramgo
and
Italian Parsley
from
Yates
, in a mixture of soil and coconut covered with a layer of coconut chippings -in a half coconut -and put on the "
pechay station
" with the other seedlings.
The new kid has been sleeping most of the day -and may be having problems with the heat.
30 April:
A small amount of rain in the night, but not enough to really wet the earth.
No sign of germination by the
Wansoy
,
Kinchay
or the
Italian Parsley
(Sowed 25 April)
. So moved them all to a cooler place next to the Tilapia pond.
Cracked Earth Flowering Bean Lonely Luffa Flower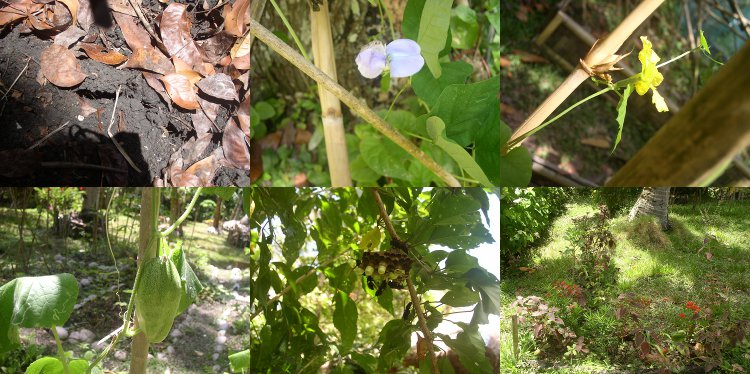 New Cucumber Hornets Nest Mixed Border
---
---
Trevor Batten
<trevor at tebatt dot net>
Baclayon 2013
home
---