Tropical Heritage Garden Diary:
December 2017: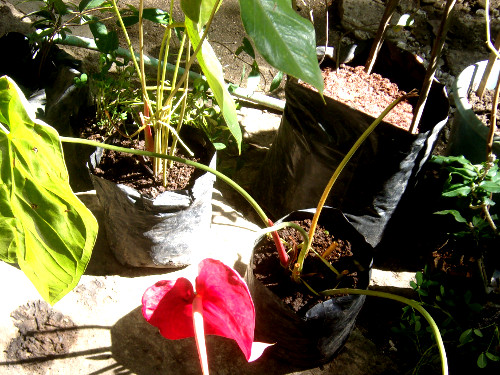 December 01:
Some New Garden Plants


December 02:
More Copra being Processed


The first Rain this Month





...but not so much Flooding





However the Goats are not Happy about Getting Wet





But the Cat doesn't Care



December 03: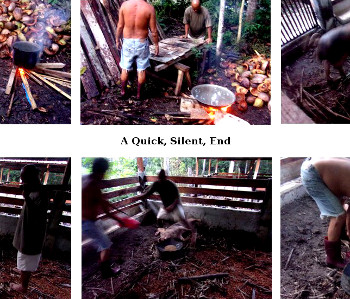 Flooding has almost Gone


Finishing the Copra


Rain and Sun Again

December 04:
Another Patch Tidied Up


Guess what we are having for Lunch!


Some of the new plants are replanted


December 05:
Light Rain Again


Concrete fragments on paths broken up to improve walking and drainage conditions

December 07:
Replanting Session

Newly bought plants relocated along garden wall

Dragon Fruit, Durian and Marang

December 08:
Town Fiesta at a neighbour's house



More Replanting Today



Bananas starting to Regenerate after being cut by Builders

Replanted Bananas also Trying to Grow

Making Sausages


Boudin Blanc
December 09:
Sausages Drying


Sausages for Lunch


Pandaan Cuttings Planted





Passion Fruit Seedlings Planted





"Nursary" Area Tidied Up



December 10:
Setting up the "Creep Space" for Piglets in the Farrowing Pen


....and the Lighting Connection is Established


Some Citrus Seedlings Planted


Garden Frame Moved -and various areas Resown with a mixture of Vegetable Seeds


More Beans and Peanuts sown in the Pig Pen Area

Sausage Dinner

December 11:
Some Gabi (Taro) and Cassava Sticks for the Rain Gardens



More Citrus Seedlings planted



Lighting installed in the Farrowing Pen


Panorama of Fatima's New (Western) Gardens


Ham Dinner

December 12:
Newly Planted Taro


Cassava sticks laid on soil to produce roots


December 13:
Dead Frog Given Us as a Present from Our Cats


Auntie Brownie is Transferred to the Farrowing Pen


Only one Rain Garden Flooded after Heavy Night Rain


Finding A Path in the Northern Jungle


Some refuse is fed to animals

...and some is replanted -to help drain the soil



Trying to Improve Paths by Moving Concrete left on Garden Plots by Builders

Some Seeds Surviving -but Several Damaged by Chickens


More Rain


December 14:
After Two Nights of Heavy Rain, the Rain Gardens are Starting to Flood


However, by the End of the Day the Water is Starting to Subside


December 15:
Despite several Nights (and Days) of Rain, Drainage is Working very well


December 16:
Visiting a Neighbour for their Christening Lunch


December 19:
Continuing the Cutting of Paths in the Northern Jungle


Another Attempt to Protect Seeds and Seedlings from Chickens and Ducks

More Hens with Chicks


Auntie Brownie's Second Farrowing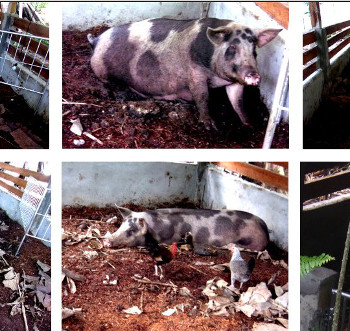 December 21:
Typhoon in the Area: Lots of Rain Today


-but the Drainage Still seems to be Working Reasonably

December 22:
After another Night of Rain, Drainage is getting Critical -but still not a Serious Problem


...While the Banana Trees are Regenerating Nicely




A Few signs of Green in the anti-Chicken Experiment

Newborn Piglet Takes a Trip -Nearly gets Lost, but Finds its way Home

...And, of course, Rain Again....

December 23:
Many more Green Shoots now Appearing in the Anti-Chicken Garden Patch


December 24:
Some dare to Explore, Others are not Sure -while Some Prefer to Be With Mummy


December 25:
Carolers in Various Shapes and Sizes


December 26:
Two Fattening Chickens -can we Breed them?


The Anti-Chicken Garden Patch seems Successful

December 27:
Crushed in the Night

...but Life Goes On for the Others...


Cleaning Up the Mess and Marking out the Paths


Lost: Escaped on the way to the Vet

December 28:
Sun after Rain


Making a Bamboo Salt Lick with Salt and Molasses




Goats Enjoy Home-Made Salt Lick, which Improves their Appetite too


<https://www.youtube.com/watch?v=WiLUSVuYX2E>


December 29:
Bananas Harvested


Sow and the Nine Surviving Piglets are Enjoying the Sun

Anti-Chicken Experiment still looking Successful

December 31:
Auntie Brownie enjoys a Breakfast in Bed before Starting Work


Neighbours collecting "Chesa" for their Celebratory New Year's Table


Some more Rain to End the Year


---
2017
January
February
March
April
May
June
July
August
September
October
November
2018
January

---
Trevor Batten
<trevor at tebatt dot net>
Baclayon 2017
home
---