Tropical Heritage Garden Diary:
July 2022: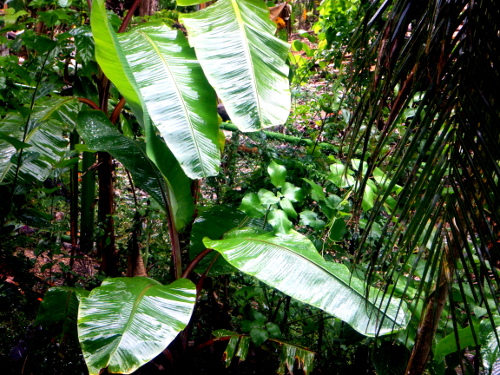 July 01:
Fatima Brings Home the Shopping

An On-Line Order Arrives

Some Seeds are Potted

Passion Fruit Transplanted

Work on the Garden Diary


July 02:
Metal Roof panels Arrived to Repair Pig pen Roof

A Hot and Humid Day

Beans is Under the Weather and Not Eating





July 03:
Local Lads Help with Various Tasks

Some Pigs Go Out -While others Stay at Home

Typhoon Documentation Finally On-Line

Rain

July 04:
The Pig Pen Roof Destroyed by Typhoon Rai is Finally Repaired


Rain for Much of the Day


Beans Ventures Out to Forage but the Other Pigs Stay at Home




July 05:
Roadworks Completed?


Lunch and Shopping in Tagbilaran



Dinner on the Balcony


July 06:
Another Hot, Sultry, Day


Too Hot to Do Anything


Some Pigs are Out and Some are In


The Reservoir is being Dried Out so It can be Waterproofed




July 07:
A Bit of Programming -for a change


July 08:
Lunch and Shopping in Tagbilaran



Roadworks?



Not All Pigs are Equal


July 09:
Some Pigs Like to Go Out while Others Stay at Home


Fallen Papaya Tree is Trimmed


Some Protective Netting Repaired


More Path Cleared


The Squash by the Pig Pen is Ripening


...and The Reservoir is Now Waterproofed





July 10:
Another Lazy, Rainy, Day


Some Edible Luffa Seeds Collected and Sown


July 11:
Another Lazy Day


Programming Again


July 12:
Lunch and Shopping in Tagbilaran



The Saga of the Roadworks Continues


July 13:
Cleaning Up the House


Selling Off Some Ducks


Transplanting Apple Guava Seedlings


Starting to Replant the Privacy Wall Area


A Bit of Path Clearing


Avocado Tree Trimmed


..and then Rain




July 14:
Another Hot Day


Some Administration Must be Done


A Path Cleared



The Nursery Area Tidied Up


The Last of the Passion Fruit Seedlings Transplanted


More Planting Along the Privacy Wall


Overflow From the Reservoir is Flooding Under the House


The Tambis is Starting to Fruit


July 15:
Collecting A Piece of Paper from the Local Council


Lunch and Massage in Tagbilaran


Road Works?

July 16:
More Planting Along the Peripheral Fence


Rain Again


So Some Programming




July 17:
Papaya Seeds Broadcast Along Pig Run Fences


Hedge Trimmings Transplanted


Assorted Vine Seeds Sown Along Internal Fence


With Shipping Documents Printed Out -the Defect Computer is Ready for Return


The Pigs Enjoy the Tambis Harvest


July 18:
After Heavy Rain in the Night the Fishpond is Full of Debris


A Path is Trimmed and Transplanted Along the New Wall


July 19:
Road Now Open


Lunch and Business in Tagbilaran






Fatima and Penny Reorganize the Living Room

July 20:
More Trimming and Path Clearing


Transplanting Too


..and Rain


July 21:
Rain




Reclaiming Paths, Trimming and Composting





July 22:
Lunch and Shopping in Tagbilaran




BMW Gets Artificially Inseminated


July 23:
Over-ripe Passion Fruit Seeds Potted


More Work on the Hedge


Brownie gets Inseminated While BMW is Out


July 24:
Another Hot Lazy Sunday


Some Work on the Computer


Trimming and Composting


July 25:
Another Day Programming


July 26:
More Trimming and Composting



Some Flower Cuttings Transplanted


July 27:
Lunch and Shopping in Tagbilaran



Major Roadworks Ahead?


Our Driver Buys Two Roosters


July 28:
More Trimming, Clearing and Transplanting






July 29:
Rain


A Few Chocolate Pods Ripening



Trimming and Path Clearing Again




-
July 30:
Fatima Buys Several Sacks of Carbonized Rice Hulls


The Clean Up Continues




July 31:
Goodbye Ihid


Lots of Visitors to Buy Ducks


We Meet a Friend Who Gives Us A Present at The Harbour


...and See the Site of the New Bridge to Panglao


Then Go to Lunch


...and Visit Two Public Beaches on Panglao



---
---
Trevor Batten
<trevor at tebatt dot net>
Baclayon 2022
home
---