Auntie Brownie's First Time Farrowing:
-June 2017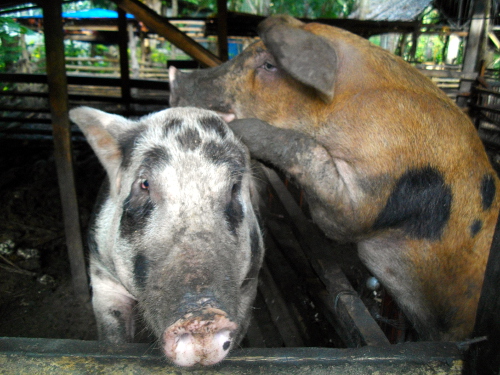 Brownie and Brownie -March 4 2017

June 23, Friday:


Around 11 45 PM Fatima was woken up by the sounds of a restless pig.
We gave her some dried banana leaves that we've been saving so she can make a nest.
Which she did -and then she laid down for a rest....

June 24, Saturday:




Around 6 30 AM Brownie had a light breakfast and laid down again.... Around 8 20 AM we heard strange noises and saw the first piglet. We are left her completely alone to see how she coped -but were ready to intervene in case there were problems.....

Fatima says that at first Brownie seemed a bit confused by the piglet's appearance -but by 8 30 AM had settled down and was suckling it

Just after 8 30 AM the second piglet arrived.

By 9 30 AM -it was over: Mother resting and the kids drinking. Unfortunately, the last born (exceptionally small) was already dead. We watched from our balcony and didn't go down there until later.

By 11 AM mother and piglets were resting, We still hadn't been down to take a look yet. This time we will leave as much as possible to the mother and allow nature to take its course.

Around 11 35 AM mother is quietly suckling the brood and we sneak down for the first photo shoot. Just a few shots and then back to the house. Everything is very quiet and peaceful.....

Around 2.30 PM -she gets up and starts eating some of the nesting material. Then she takes a rest away from the piglets for a while. We still haven't gone into the pen -but it looks like 10 or 11 live piglets plus one (or possibly two) dead ones.



By 4 PM (normal feeding time) Fatima went in to the pen after feeding and collected the one dead piglet. Brownie had eaten the placenta.

We buried the dead piglet in the garden and around 5 30 PM closed down for the evening.
June 25, Sunday:
(photos: Fatima Lasay)



June 26, Monday:
On our return from shopping Brownie seems somewhat restless and disturbed. Lots of squealing piglets and some crushing incidents.




June 27, Tuesday:

Piglet crushed yesterday finally dies.
However, the group seems to be back to normal -and have calmed down after yesterday.



June 28, Wednesday:


June 29, Thursday:

A second crushed piglet found dead

June 30, Friday:

It seems the piglets have finally discovered their specially provided safe "creep" space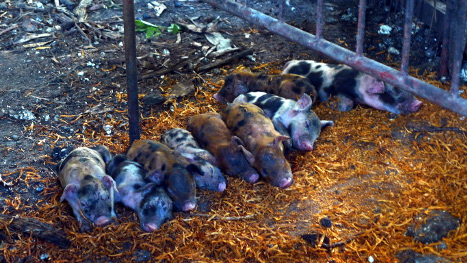 (photo: Fatima Lasay)
-------------------------------------------------

-------------------------------------------------
---
---
Trevor Batten
<trevor at tebatt dot net>
Baclayon 2017
home
---