Tropical Heritage Garden Diary:
June 2018: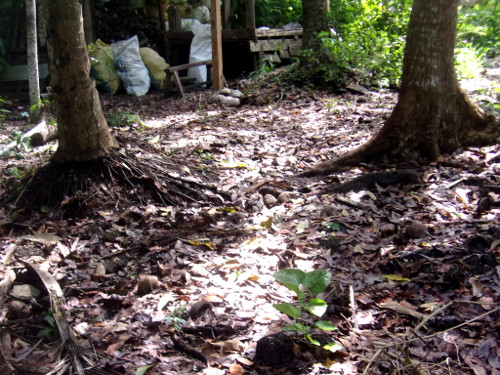 June 01:
Rain in the Night


Clearing Up Leaves from the Roofs and Drainage Canals of the Pig Pens


Collecting and Flattening Soil in the Empty Pig Pen


Pinkie has a Scrub -and shows his (new) teeth


More Space and Light in Landahan Area -after clean up


Bromeliads thrown away locally replanted in our garden


More Light Rain in the Afternoon


June 02:
Light to Moderate Rain All Day


June 03:
No.Three is Moved to a New Pen -Leaving Junior Alone -for Fattening



Junior's Roof is Cleaned and the Cacao Tree Trimmed


Duck Pond Area improved and Both Drainage Systems are Completed


Balimbing is Also Trimmed -and given to Goats


Coffee Bush is starting to Fruit


June 05:
Another small shower


June 06:
Rain in the Night


Seeds Sowed May 30 Begin to Sprout


More Pineapples to Plant


A Rainy Afternoon


...But Some Washing Gets Done

June 07:
Building (two) Garden Frames for Climbing Plants



Cleaning Up under the House and Removing Termites


Preparing the Soil and Broadcasting more Seeds in the Northern Garden


June 08:
A Visit to the Plant Shop to get New Plants


This Year's First (Ripe) Passion Fruit!


June 09:
The House Paint Arrives


June 10:
Pineapple Tops Planted


New Trees Sorted into Groups for Planting


Hedge Area Trimmed and Fruit Trees Planted


Fruit Trees Planted Close together and Later kept small by Pruning



Tree Trimmings Fed to Pigs

June 11:
Cleaning up Under the House





The Anti-Termite Treatment Continues


..,and an Old Crate Moved (for compost?)


The Monster Vine Frame is Remodeled


Two of the Newly Planted Bromeliads are Blooming Already


Spiders in the Garden


Monitor Lizard Visits the Duck Pond


June 12:
Painting the "Monster"


Painting the Woodshed


Planting the Planter


Clearing some concrete and planting the Aloe Vera


Planting the Other Newly Bought Plants


Gecko Falls from Ceiling in House

June 13:
The War against Termites Continues



Chicken Pen Demolished



Converting a Scratching Pen into a mini-Greenhouse



June 15:
Seeds Planted in Pots in Mini-Greenhouse



June 17:
A Small Plastic Tunnel for Seedlings



Sorting Out My Studio -Looking for termites


June 20:
Some Rain At Last!


Painting Under the House -Protection against Termites




June 21:
Rain is Making the Garden Grow


Seedlings sprouting in Mini-Greenhouse too


..and the House Painting Continues

June 22:
Rain in the Night


More Seeds Planted in Mini-Greenhouse


More Painting


...and More Termite Chasing


June 23:
Rain in the Night Again


Patola Picked


Pineapple Picked


Asparagus Seeds Planted in Four Locations


More Tomatoes and some Arugula sowed in Mini-greenhouse


Kittens are getting very big


June 25:
Rain in the Night


More Roselle and Sunflower Seeds sown in Mini-greenhouse

June 26:
Rain and Sun


June 27:
Recently Picked Pineapple Ripening


More of the Northern Garden Being Cleared for Planting


Seedlings Growing in Recently Sown Northern Patches


The House Painting Continues


Area Around Original Rain Garden Trimmed


...and Replanted along the Northern Hedge


June 28:
Morning Rain


Piglet Pen is Painted with Coal Tar


Piglet "Restaurant" is Painted with Coal Tar too


Latte has a sore leg bandaged -and is kept under the House


...and A Lazy Day for The Pigs


June 29:
Pinkie Visits No.Three


More of the Northern Garden Cleared -and Fed to Pigs


'..and No.Three Visits Pinkie

More Seedlings sown in Personal Greenhouses



...but They Get Separated for the Night

June 30:
Pinkie and No.Three Get Together Again


and then Separated Later




---
2018
January
February
March
April
May

---
Trevor Batten
<trevor at tebatt dot net>
Baclayon 2018
home
---