Tropical Heritage Garden Diary:
September 2018: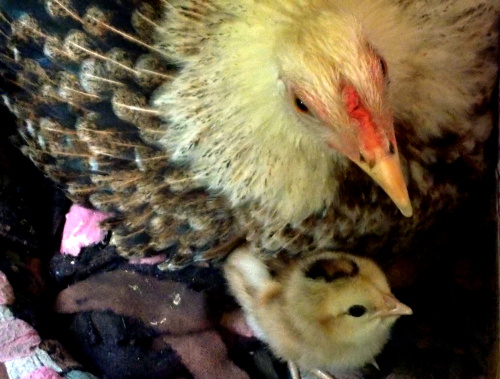 September 01:
Hen Hatches Eggs on House Balcony


Bunching Onions Transplanted in Various Locations


Pechay Seedlings Transplanted in Various Locations


Italian Tomato Transplanted near the "Monster"



September 02:
Mulberry Bush is Transplanted from Western Garden to (more sunny) Northern Garden


Protection for Gabi (Taro) against Ducks?



Chicken has abandoned Nest -and Fatima fails to hatch a Chick

Home Grown Pork for Breakfast (Tocino), Lunch (Ham) and Dinner (Bacon)

-eggs, tomatoes and aubergine too
September 03:
Brownie and then "Limpy" transferred to New Pen


Mother and Piglets are Unhappy -but Gradually are Settling Down



Various Seeds Soaked -in hope of Germination




Young Mother Hen with New Chicks already Devastating the Garden




Light Rain at Lunchtime

Separate Meals (for a while) -because Limpy Can't Reach the Trough


....but the other piglets have no problems with it

September 04:
A Small Garden Harvest


Mustard Going to Seed


Rain in the Afternoon

September 05:
Cleaning Out the Mini-Greenhouses


Chinese Spinach and Chaism Transplanted -with Peanuts and Assorted Broadcasted Seeds





Round Green Eggplant Transplanted to Northern Garden



Another Short, Heavy, Shower


Breadfruit and Neem Trees Transplanted


September 06:
Light Rain Again


Beetroot Seeds (Germinating After Soaking) are Put in a Pot in the Mini-Greenhouse

September 07:
Transplanted in Northern Garden

Sausage Tomato, Comet Radish and Bean Sprouts



French Breakfast Radish and Alfalfa



Germinating Seeds Planted in Pots



Other Seeds continue with the Soaking


A few Coconut Trees Trimmed and Harvested





Selected Garden Areas Watered


September 08:
Selected Areas Watered Again


September 09:
Rain in the Night


Areas with recent transplants are broadcast with a mixture of seeds

September 10:
Remaining Soaked Seeds Planted in Pots





Some (White) Gabi (Taro) Planted


Selected Areas Watered



September 11:
Early Morning Rain


September 12:
Watered Again


September 13:
The First Two Piglets are Collected by their New Owner




Plants in Exchange for Ducklings



.....and a Piglet To Go!



Cuttings are Put in Temporary Pots


Remaining Piglets are too Nervous to be collected -Try again Tomorrow....


September 14:
Rain in the Night (Typhoon in Northern Philippines)



More Rain


Herb Seeds Potted




No.Three has Problems Again



...and Even More Rain


September 15:
Rain in the Night


No.Three gets Treated Again


Rain and Sun




Plants Starting to Thrive in the Sun and the Rain




Splitting Bamboo for Plastic Frames

Building a Multi-Compartmentalized Protected Area


September 16:
No.Three still under Treatment


Mother and Daughter still Together


Disposal of the Piglets Postponed -Because of the Storm


Fatima's Crops are doing Well


....and Some of Mine are starting to Grow Too -Patola, Asparagus, Thai Cucumber and Passion Fruit


Protective Fence around Banana Tree -To protect it from Ducks

Various Seeds Sown in Multi-Compartmentalized Protected Area



September 17:
No.Three gets her Treatment -and is starting to improve


The Piglets are still very nervous -but are eventually all caught



One Goes To a Neighbour


...and Three to a Local Orphanage


We go with Them


Where we See their Auntie again -and lots of other thoings too




Then Back Home for More Rain in the Afternoon


September 18:
No.Three is still being Treated -but is improving


More Rain



A Start is made with Cleaning Up the Maternity Suite and Collecting Compost



September 19:
No.Three Continues her Treatment


Morning Sun



Recently Exchanged Seedlings Transplanted



Fruits from the Market -for Eating, Planting and Feeding to Animals


Visiting our Neighbour's New Piglet


...and Admiring their Baby Goats -Sired by our Latte


September 20:
Rain in the Night


Rain During the Day


No.Three's Treatment Continues


Preparing and Repairing the Empty Pen



Planting Marang Seeds



Planting Water Melon Seeds




September 21:
No.Three Now Back to Normal


The Duck Family Visit The Pool


Mangosteen Planted in Pot in New Tree Nursery



Heavy Evening and Night Rain




September 22:
Rain in the Night -all Ponds and Reservoirs are full



-but no Flooding


Even an Early Morning Attempt at Sunshine


Followed by Rain


September 23:
After the Rain Comes the Sun






Roselle, Eggplant and Mulberry Growing Nicely


...and Four Ducklings Less


September 24:
Burial of A Dead Duck


No.Three is Moved to the Maternity Suite


No.Three Seems Happy -but Pinkie Looks Lonely

Old Pen is Cleaned Up


Uneaten Bits of Coconut Branches Returned to the Garden and Composted

September 25:
The Soil in No.Three's old Pen is Leveled


Pinkie is Moved and his Pen Cleaned up before he Returns



...and More Compost for the Garden

September 26:
Brownie Gets Moved Next to Pinkie


Limpy is Now able to Eat without Competing against Her Mother


Rain


Rambutan Planted in Pots


More Seeds Soaked for Germination




September 27:
A Morning Shower


Patola (Edible Luffa) Transplanted

Thai Cucumber Transplanted


Pepper (Inokra) Transplanted



September 28:
Passion Fruit Seedlings Transplanted



Several Soaked Seeds Planted






September 29:
Sawtooth Coriander and Italian Parsley Transplanted


The Remaining Soaked Seeds Planted in Pots



Protected Areas Watered


September 30:
Protected Areas Watered


---
2018
January
February
March
April
May
June
July
August

---
Trevor Batten
<trevor at tebatt dot net>
Baclayon 2018
home
---