Tropical Heritage Garden Diary:
August 2018: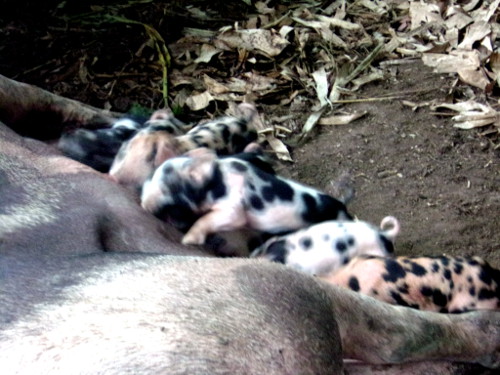 August 01:
A Short Shower in the Afternoon


August 02:
Another Afternoon Shower


Three "Beefsteak" Tomato Seeds Planted in Northern Garden


August 03:
Recently Cleared Area in Southern Garden Planted with Beans and Other Vines


Will This Plastic Screen Keep the Chickens and Ducks away from the Plants?


Evening Rain

August 04:
Fenced Area Planted with Various Seeds


August 05:
Peanuts, Maize, Beans and other seeds soaked in Wet Cloths to if they will Germinate


"Cape Gooseberry" Tomato Seeds Planted in Northern Garden


Bell Pepper, Hot Pepper, Sage and Chinese Spinach Sown in Pots in Mini-Greenhouse


Fallen Palm Fronds Processed for Feeding to Pigs


Windfall Coconuts used as Animal Feed



August 06:
A Family Gathering


Morning Rainy Squalls

A Few Soaked Beans are starting to Sprout


Sprouting Beans Planted in Two Southern Garden Areas


August 07:
New (Nikon CoolPix A10) Camera Bought



August 08:
More of the Soaked Seeds are Starting to Germinate



Some New Seeds (Bush Beans, Cow Peas, etc) are also Put In to Soak

Germinating Okra seeds Planted in Northern Garden


Maize, Peanuts and (Bush-)Beans Planted in Cleared Patch in Southern Garden


Transparent Plastic Screen put around newly planted seeds -to protect from chickens



Northern Garden Watered


August 10:
More Soaked Seeds are Sprouting


Germinating Cow Peas and Bush Beans Planted in Cleared Southern Garden Patch


...and Watered


Some Recently Planted Seeds are Germinating


August 12:
Piglets Two Weeks Old Today!


August 13:
Piglets Explore the Garden -but come home when mother calls


Some more Peanuts have sprouted, but the Maize not yet


Sprouting Peanuts planted in various locations


August 14:
Dead Chicken found in Northern Garden


August 15:
Cinnamon, Black Pepper and Curry Leaf Plants arrive by Courier -but not very well packed


the Garden is Starting to Dry Out


Pigs Given Water every two hours in the Hot Weather



Some Areas of the Northern Garden are Watered -but not Others


August 17:
Empty Pen -Piglets out Playing in the Garden


Fatima returns from Manila


Recently arrived Plants Re-potted






August 19:
At Last, Rain in the Night!


Garden Badly Needed the Rain

Piglets Three Weeks Old Today


Twisty has Three Ducklings


Rotting Peanuts and Maize Buried, and pot cleaned for another attempt

August 21:
Damage to Garden by Piglets, Ducks, Chickens -or Drought








Roselle Doing Well


...but Only One Sunflower is Still Undamaged


...and Newly Re-potted Plants Are Not Looking Good Either



Northern Garden Watered

August 22:
Northern Garden Watered Again


August 23:
Northern Garden Watered Today Too


August 24:
Bebe and Alex repair the reservoir by the Pig Pen



Protected Area Damaged by Piglets Again after Repair


Damages are Repaired Again


Piglets confined to Their Pen for a Day


Potted Mustard plant moved to "Lemonade" patch (to seed) -and then patch is watered


Mini-greenhouse Plants Growing Reasonably Well


Tilapia Getting Bigger


A Light Rain to Slightly Refresh the Garden


August 25:
Piglets Exploring the Garden


Ducklings Eating Coconut


August 26:
Heavy Rain in the Night


Various Stages of Edible Luffa growing in the Jungle



.....Male and Female Papaya, a Few Beans and Some Taro

Felled Talisay Regenerating and Various Trees and Bushes Growing Too


Recently Received Plants Struggling


Several Cacao Pods in Different Stages of Growth


Collecting Chicken Eggs From a Sack of Leaves


Fallen Coconut Branches Tidied Up in "Wild" Area


"Limpy" is Weak and Often Not so Active as the Others


-but She Still Gets Around


August 27:
Northern Garden Watered


August 28:
Rain!


August 30:
Coconut Patch Cleared of Weeds which are then Fed to Pigs



Some More Light Rain


Assorted Seeds Mixed with Compost and Broadcast in Protected Patch


Twisty's Ducklings are Getting Big and Special Treatment make Other Ducks Jealous


Heavy Evening Rain


August 31:
Rain


Preparing the Pen for the Next occupants



The Next Generation is Getting Ready


.....with a variety of drinking habits

---
2018
January
February
March
April
May
June
July

---
Trevor Batten
<trevor at tebatt dot net>
Baclayon 2018
home
---