-------------------------------------------------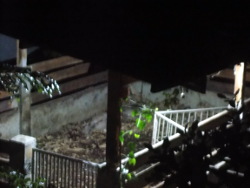 -------------------------------------------------
Unfortunately, we did not respond quickly on June 30 -when a piglet was trodden on by the sow.
This was because we had often had incidents of crushing where a surviving piglet complains to their mother.

We did not realize that the death cries were different to those of an angry but otherwise viable piglet.

However, given the nasty flesh wound, it is also not certain that we could have saved the piglet if we had responded earlier.

-------------------------------------------------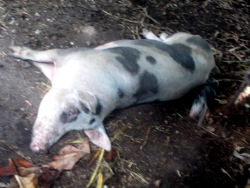 -------------------------------------------------

Apart from the one tragic incident, this seems to have been an almost perfect farrowing.

The relatively small number of piglets -and perhaps the fan -coupled with the good natural instincts of the sow have given us (up to July 2) little reason to intervene. We did not cut any teeth, for example.

However, Fatima did give some preventative anti-biotic just before farrowing actually started.

On the other hand, the piglets did seem rather lazy and unadventurous in the beginning. It took them a relatively long time (compared with other litters) to discover the exit and the garden. However, once the discovery was made they were often outside, either sleeping or playing in the garden.

These piglets also seemed to be less shy and nervous regarding our presence. That may be because of their personalities -or it may be because we are more accustomed to dealing with piglets.