Tropical Heritage Garden Diary:
August 2013:
1 August:

2 August:
Crinkly and Straight Squash plants

Turmeric Small and Large

A small pile of Beans

Mung Mung, Cowpea and Bush Sitaw Bush

Large Sorghum and Happy Caterpillar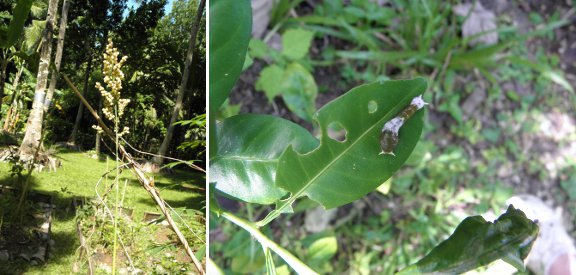 3 August: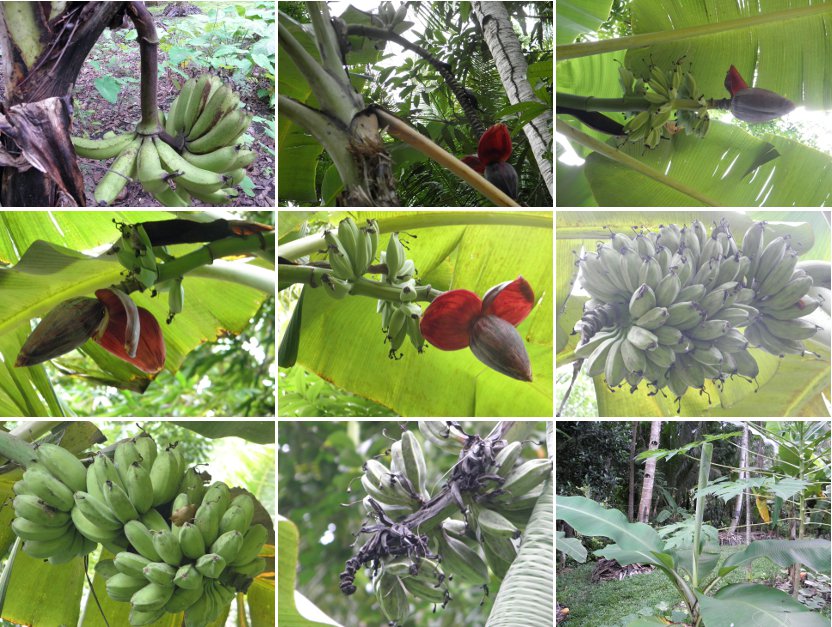 Fatima
has been reading a book on fermentation (
The Art of Fermentation
by
Sandor Katz
). One of the subjects covered is the collection and preparation of seeds, So I decided to experiment with the latest batch of seeds from a market bought
Squash
.
Basically, the seeds were allowed to ferment
naturally
(
wild fermentation
) by putting pulp and seeds in water and leaving the natural micro-organisms in the air to do their work. After a few days, the seeds are washed, sieved to remove the pulp -and then dried for saving.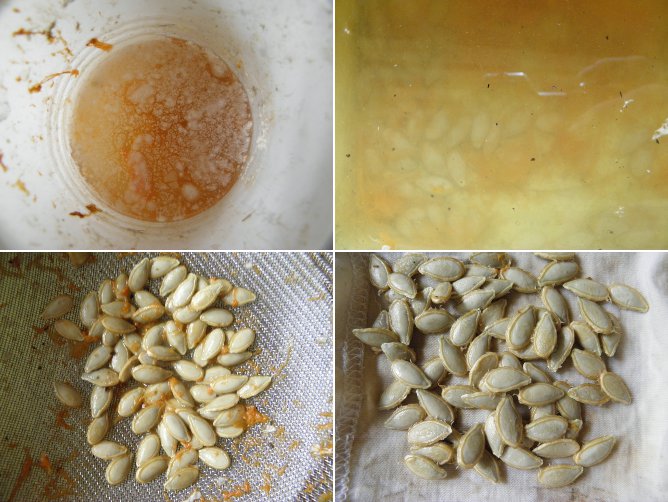 5 August:
Ants Attacking Caterpillars Attacking Beans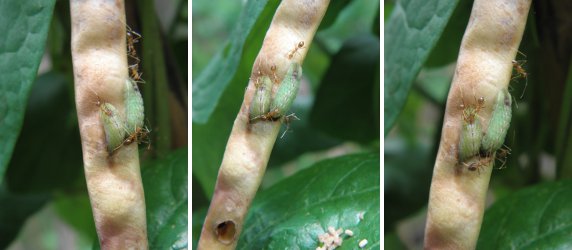 6 August:
It's been raining a lot during the last few days (
and nights
). During a pause in the rain, started cleaning up another vegetable patch (
V.1B
).
7 August:
Worked (
in the afternoon
) on cleaning up
V.1B
-but rain stopped play.
There was also flooding along the South-Westen edge, by the
Ginger
patch (
V.2E
). Perhaps caused by the neighbour (
who is building a house there
) dumping lots of soft rock around his house and covering most of his garden. The amount of runoff from his garden presumably depends on how porous the dumped material is. Luckily, it does seem fairly porous. In any case, our garden now seems to drain quite quickly. I'm encouraging grass and weeds in all the area where the earth is still bare. Maybe some more
Cassava,
Camote Tops
or
Kangkong
to encourage better drainage via their root systems.
8 August:
Lots of rain today -but I finally finished renovating
V.1B
. It is now ready for further planting.
It seems that the local
Pineapple
can have seeds. A neighbour gave us one and while eating it we found several. Despite the rain, I managed to plant some in two pots -one with just normal soil, and in the other some composting vegetable remains, because it occurred to me that the seeds might grow better if allowed to ferment naturally in some of the
Pineapple

pulp
. Unfortunately, this had already been eaten by us, or given to the pig, so composting vegetable remains were the best we had. Maybe we'll do better next time.
The new patch was covered with chopped coir, which will be left for a few days to rot down a bit. However, some 2nd generation
Cowpea
were planted in the new patch, also to help improve the soil.
Patola, Upo, Ampalya
and
Cucumber
were planted in various parts of the garden where they have a chance to climb.
Before and After renovation

Eaten, Eating, Harvested and Growing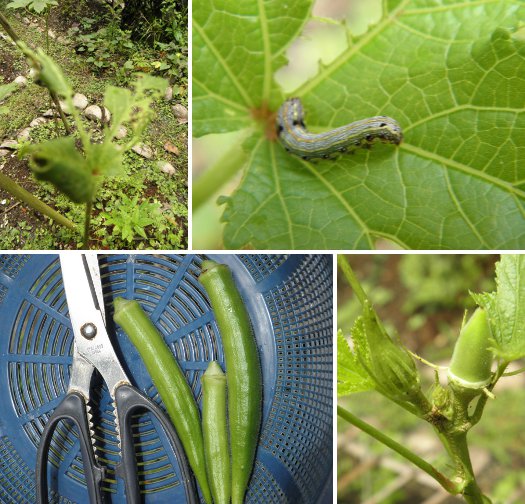 9 August:
2nd generation
Burmese Okra
planted in the new patch (
see photo above of

V.1B
) after soaking in water for 24 hours.
A neighbour gave us from her garden some
long red flowers
with seeds on -which were planted in various (
flower
) patches around the front of the house (
including the new areas under the

Lanzones
).
It is also Fatima's birthday -so we went out to lunch. While out, we bought some "Air-Plants", a mini Bromeliad, and a few other potted decorative plants. When we got home, the seeds we had ordered had also arrived.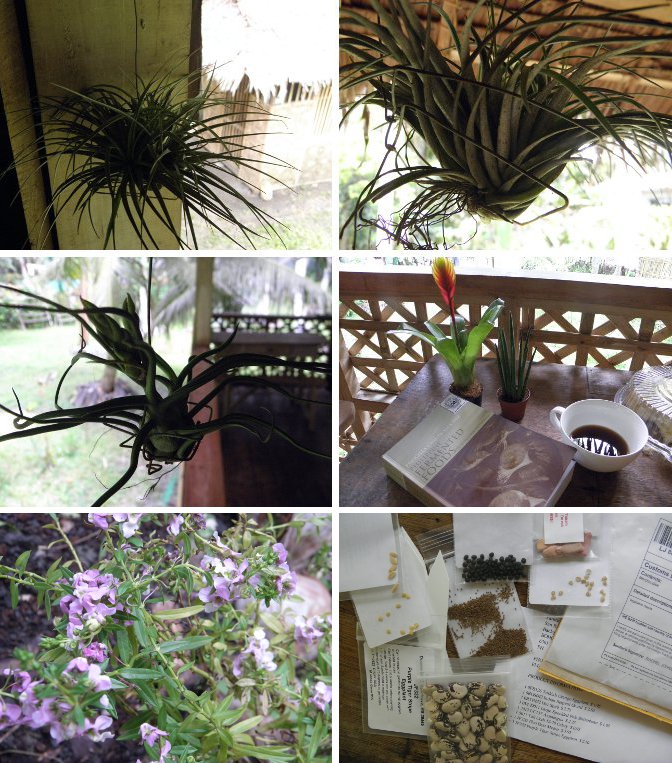 10 August:
Planted Today:
In the
new patch
: 2nd generation
Mung
and
Bush Beans
were planted first. Then
Mesclun Salad
and
Dragon Stir Fry Mix
were broadcast separately in labeled areas.
Blue Bonnet
and
Penny Rice
were also planted separately in labeled areas. Finally, a mixture of assorted
Sweet Peppers, Cauliflower, Kangkong, Chinkang, Pechay, Red
and
White Onion, Red
and
White Radish, Carrot, Tomato, Eggplant, Shisho, Sweet Marjoram, Caraway, Korean Hyssop
and
Edible Chrysanthemum
were broadcast over the patch.
Macupuno Corn
was also planted in the above patch and various other patches (
mostly among growing

Bean

plants
).
Fenugreek
was put in water to soak for 24 hours -ready for planting tomorrow.
11 August:
Planted the
Fenugreek
in various labelled locations.
Used trunk from recently harvested
Banana
tree plus fallen
Coconut
branches to improve area under second
Dwarf Coconut
tree.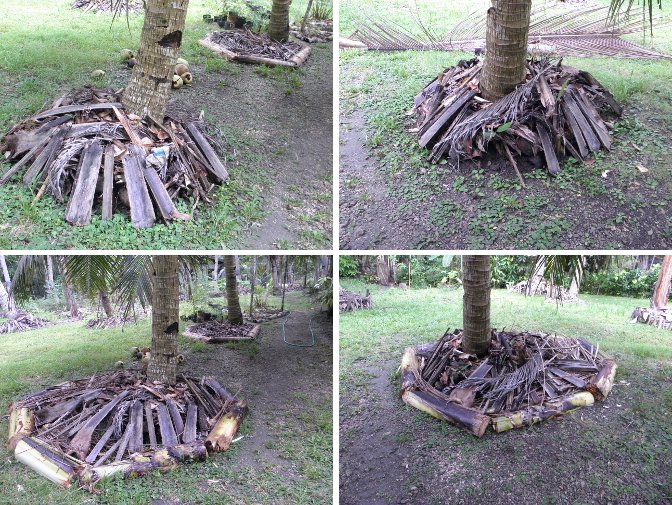 A Nice Bunch of Coconuts

Windfall under the house -and still on the tree
13 August:
At the "
Sandugan
" (
26 july
) we bought
250 grams
of
worms
.
Penny
and
Fatima
are looking after them. Already we have been able to harvest both
worm casts
and a few
eggs
. Apparently,
adult worms
do not adapt well to changes of diet caused by being placed in a new environment. So, by distributing
worm eggs
around the garden in various locations, we hope the newly hatched worms will adapt better to conditions in the garden. It is my view that
worms
(
like other things
) should be free and active improving the environment -rather than being farmed for profit, and being used in labour intensive and probably inefficient ways to cover up the poor management of natural resources.
However, for the time being, they are, hopefully, a useful source of soil improving organisms.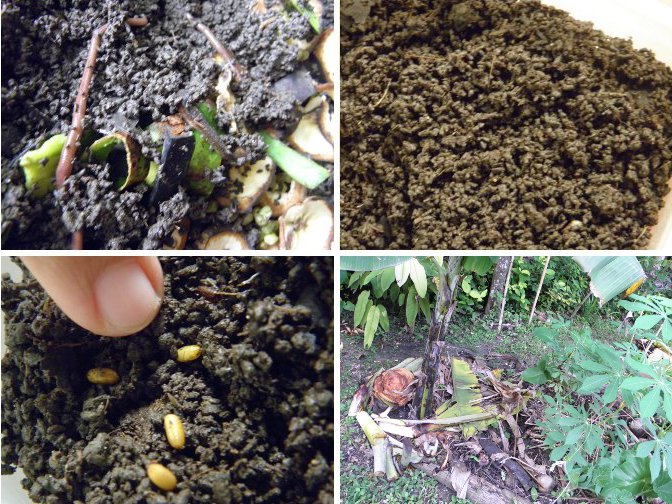 Worm Eggs New Home
Planted Today:
Chinkang
(
Green Bucks
), 2nd. generation
Mung
Beans
and 2nd. generation
Bush Sitaw
in
H.3
.
Lemon Grass
, 2nd. generation
Burmese Okra
, 2nd. generation
Bush Sitaw
, supermarket
Sweet Pepper
and a few fermented market
Squash
planted along the
South West hedge
, near the original
Durian
tree.
Afternoon rain stopped any further work.
14 August:
When we went into town on
Monday,
we discovered that the
animal foodstuffs shop
was selling
Wheat, Barley, Oats
and
Sunflower
seeds separately. So we bought 250 grams of each. Today (
before it started raining in the afternoon
) I distributed some in various (
labeled and unlabeled
) places around the garden. Some were planted separately in the soil and others just mixed up and thrown down onto the "
compost
" areas under
Coconut
and
Banana
trees.
17 August:
Fatima's sister
sent us a whole load of seeds:
Balsam Pear
, Two types of
Pumpkin
(
round and pear-shaped
),
decorative
Bottle Gourd, Angled Loofah, Cucumber, Cherry Tomato, Eggplant
(
round and long
),
Sweet Pepper and Red Radish
.
19 August:
As part of tidying-up, planted, in various locations, the few loose seeds we were still drying (
Bush beans, Hot Pepper, Cow Peas, Baguio Beans
).
20 August:
Planted Today:
Balsam Pear
(
V.4E
),
Penny Beans, Long String Beans
(
Chinese
),
Loofah
(
angled and round
),
Upo and Ampalya
amongst the climbing frames.
Cherry Tomato
(
T.4A
and various other locations
).
Cucumber
(
mostly in the Northern Garden
) and assorted
Squash
(
including fermented
)in various locations, mostly under trees.
Some
Oats
have sprouted -some
Barley
too -but it was wiped out already by the chickens, so have replanted some.
The
Wheat
and
Sunflower
have remained dormant (
or been eaten
).
The pile of
Coconuts
under the house is still growing. We shall have to harvest soon. It has been quite windy recently (
Typhoon in the North
) and the falling
Coconuts
can be quite dangerous. I got hit a glancing blow in the back today. Luckily, with no apparent damage. Hopefully,
Penny and Terri
will do the
Copra
this weekend -although the price of
Copra
is so low that we all will not earn much money from it.
21 August:

Planted Today:


Macapuno
White Maize
soaked for a few hours and planted in various (
Southern
) locations.
Eggplant
(
round, long and Chinese
) planted in labelled pots. A mixture was planted in a fourth pot -and covered with a plastic bag.
Asparagus
in
N.1A
-and together with
Artichoke
and
Cardoon
in
N.2B
and
2nd Banana patch
.
Last of the (
2nd Generation
)
Mung Beans
distributed under the
Snake Bean Climbing frame
.
A few (
2nd Generation
) large Sorghum seeds planted in various locations.
Assorted
Okra
put in soak for planting tomorrow.
Watered much of both
Northern
and
Southern Gardens
. The wind dries the garden very quickly. Sometimes one goes from flooding to cracked earth in just a few days. Although some patches seem to dry out quicker than others.
22 August:
Developing mini-garden under Lanzones
Trees

(Established 22 July)
Until now, I have been fairly "Seed" orientated -i.e. I take some seeds that I would like to plant -and then look foir a place to plant them.

However, now I notice that I'm becoming more "Place" orientated -i.e. when i see a certain patch, I think of planting certain seeds there, or doing something to it.

New and Old mini-gardens under Coconut trees


(see 24 July)
(see 12 June)
Both Sides of a newly renovated plot

(

V.1B

see 8 August)
The sun is also noticeably shifting to the
Northern garden
-which is becoming more sunny.
Full of Beans -and other things......

(N.1B)
Perhaps this is why, for some (
perhaps intuitive
) reason, despite a general tendency towards "
no weeding
" -I decided to clean up the
Banana patch
in the
Northern garden
-which has been fairly neglected for
some time now
.
While cleaning up, I noticed that the
process
(
or perhaps the result
) influenced my decisions on what to plant there. Certainly the loss of
weeds
from the
Banana patch
represented an increase in
compost
for the nearest
Coconut
tree.
Clearly, the weeds had improved the soil in the
Banana patch
, however, it was still a little "
thin
" -so, instead of merely broadcasting seeds mixed with soil, as I usually do with mass seed plantings -I covered the grains with soil mixed with chopped coir -and then added another thin layer of chopped coir over the entire patch. The Okra and Maize were buried just below the surface -which is my usual practice with large seeds.
Tidying up the Banana patch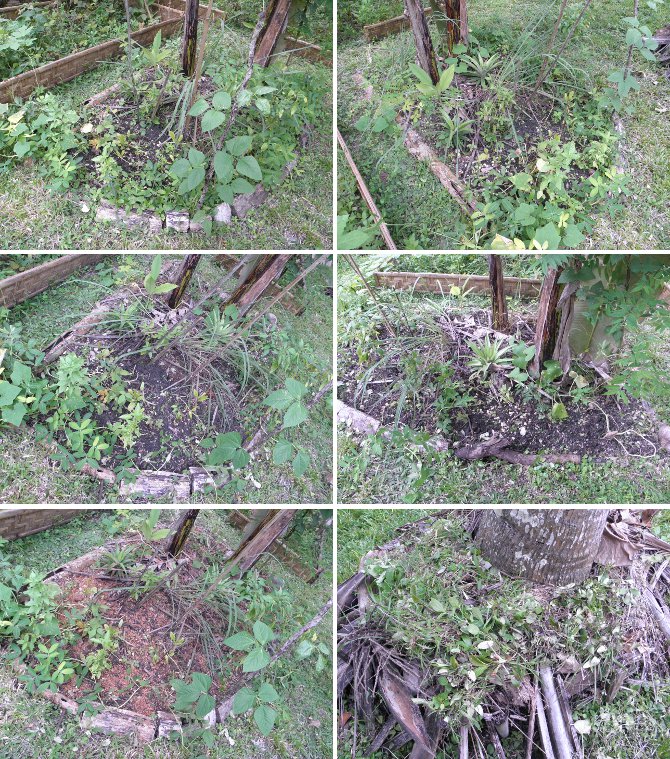 In the
new Coconut mini-garden:
Amaranth, Edible Crysanthemum, Lions tail, Korean Hyssop, Sweet marjoram, Purple Shisho
and
Caraway.
In the
Banana patch
:
assorted
Okra, Macapuno White Maize, Oats, Barley, Wheat
and
Sunflower.
In
N.1B
and
N.2D
:
assorted
Okra
and
Macapuno White Maize.

Watered the planted areas after planting.
A single
Long Bean
(
Sitaw
) was harvested from
N.1C
-but more
Beans
(
of various sorts
) are on the way!


(
V.1C
)
Rain stopped play -no more renovation work today!



25 August:


Raining almost all day today too.


28 August:
Have been busy the last few days and so unable to work in the garden. Today, the garden seemed very dry. However, it started raining before I could finish watering!

Several of the Squash plants are doing well (although not yet producing fruit). Some are still recovering from the damage received on Monday, during the coconut harvest -which had become necessary because of the danger from falling coconuts in the wind and the rain.


29 August:
Coconuts -Copra and Compost
Waiting for processing
Ready to be split for drying Husked and unhusked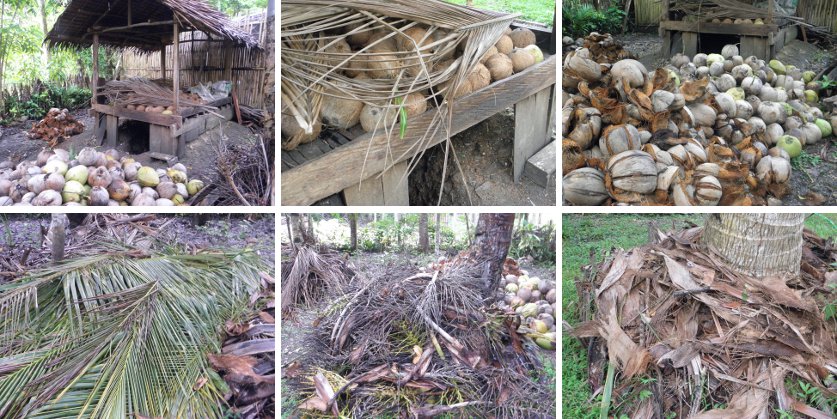 Trimmed Branches Dead Flower Stems Matting from the Trunk
First the
Coconuts
need to be removed from their outer husks (
Coir

-which earlier was used for making rope
and now is chopped for compost
). Then they are split open and the inside "
meat
" is dried and removed from the shell. The resulting dried Copra is chopped up and sold. The coconut water can be drunk as well as used for other products. We shall be making
vinegar
from it.
We also make our own
cooking oil
(
using about 10 Coconuts a week
) but this is made by cooking fresh
Coconut milk
(
grated coconut mixed with water and squeezed out
)and not from dried
Copra
. In warmer weather it is possible to ,produce
oil
by
fermentation
instead of
cooking
.