Tropical Heritage Garden Diary:
July 2013:
2 July:
Crinkly hot Pepper large Burmese Okra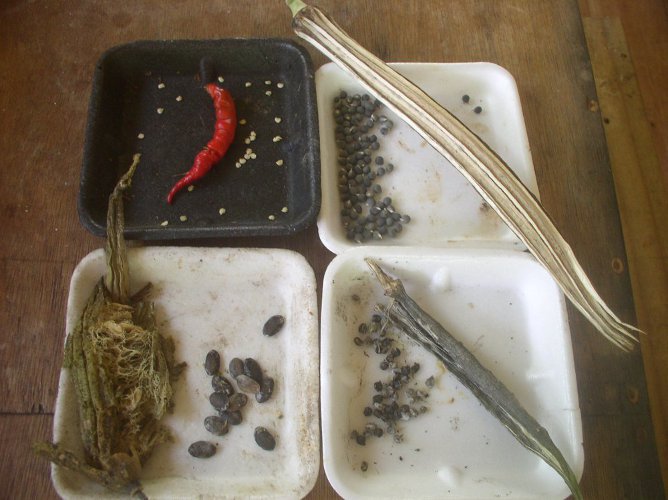 Small Loofah local Okra
3 July:
Lychee and Durian
battle it out....

Outside and Inside the Sauna

Condensation No growth -too cold and wet Inside sprouting Cacti
Mostly pottering around today -after the rain yesterday.
Planted some
Mulunguy
and
unknown Leguminous trees
(
seed pods from tree with yellow flowers found growing wild in Tagbilaren
) in the area of the
"fallen Banana"
and a few other places.
Tried hiding some
Chicken seeds
in various compost heaps under
Banana
and
Coconut
trees. But suspect the chickens will probably eat a lot of them -although some
Mung Beans
broadcast earlier seem to be growing.
A cocktail of almost all the tall growing plants including
Asparagus, Artichoke, Cardoon,
Korean Hyssop,
Edible Chrysanthemum,
Wild Dagga, Tomato, Eggplant, Hot

and

Sweet Peppers, Amaranth

and the last of the

Black Sesame

were mixed with soil, sprayed with water to bind soil to seed so they become less visible, and then broadcast in various locations under trees.

The

Mixed Cacti

were taken out of their plastic bag and placed under the house to acclimatise -and a new batch prepared in a similar way in a similar plastic (Bonsai) pot. The not yet sprouted herbs (
Parsley, Kimchay
and
Coriander
)

planted 22 June

had any remaining water removed from the outer pot -and moved to a sunnier, warmer, location next to the sprouting fruit tree seedlings.


5 July:
Cleaning up the "Heritage" area. Planted a mixture of 1st and 2nd generation Burmese Okra in
H.1
and
H.2
(
after soaking for around 24 hours
).
Unfortunately, the Camera is not functioning properly -so can't take any photos.....
7 July:
H.1
and
H.2
now cleaned up -with drainage ditch all round -ready for
Coconut chippings
to be applied.
Planted some Chicken Seed in
V.4C, V4D , V.4Em V2.A
and
H2
as a test. Perhaps some
Blue Bonnet Rice
could be planted in these areas.
In the "
instant garden
", by the house under a
Coconut Tree
a mixture of
Pechay, Mustard, Red Radish
, etc. was sown to fill in the holes left by the previous sowing -which is now growing quite well.
After soaking all night some
Bush Beans
were planted in
T.1A, T.1B, T.2A
and
T.2B
to increase
Nitrogen
content there.
Finally, 3
Lemon Squash
were planted along the edge of T.5A and T.5B -with some market squash planted in a few
compost areas
under
Banana or Coconut Trees
.
8 July: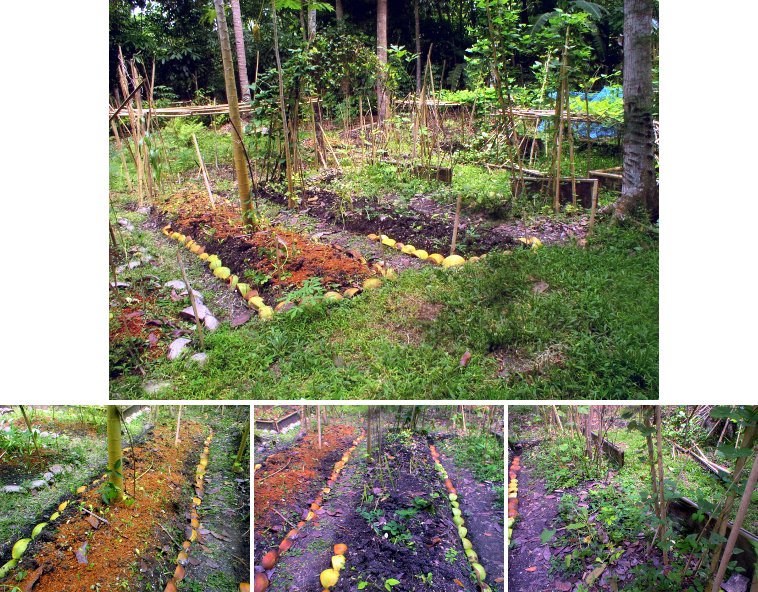 Finished Half way To Go
!
War on Weeds?
Weeds can be quite a problem. If allowed to proliferate too much, they can choke the plants -however, removing them robs the soil of moisture preserving cover and a whole load of
helpers
who open up the soil and transform it in various positive ways.
In our case, the worst problem seems to be the various forms of
Carabao Grass
which has powerful
runners
that spread everywhere.
The Solution?
We seem to be evolving towards a three pronged approach:
The encroachment of grass is essentially a
border
problem. This is helped by having a well defined border around the plot (
a small

Bamboo

fence

, drainage

ditch

or

Coconut shell

edging
) which can be periodically checked for encroachment.
Secondly,
Terri
has started trimming the
Grass
growing on the
areas
and
paths
around the plots. If the
grass
is kept short, it will presumably spread less easily. On the other hand, it is presumably good to encourage
grass
to grow in
uncultivated areas
-as this helps with the
drainage
and reduces flooding from
run-off.
Thirdly,
Fatima
has started harvesting the weeds for fermenting into chicken and pig food. By trimming the weeds, and not pulling them out, the roots will either rot down and improve the soil -or will regenerate and be harvested again.
Good for the garden and good for the chickens
-which seem to really like their fermented food.
A few extra
Artichoke
and
Cardoon
were planted in
N.1A
-as it looks as if those already planted might be germinating.
Mung Beans
were broadcast for
green manure
in various parts of the garden (
around young trees, along the hedge and opposite the chicken fence
).
10 July:

me working in the garden.................. and a happy customer!
11 July:
The Great Bean Race (Planted June 19)

Jose Penny Nanning



The Great Bean Test (Planted June 19)


Cowpea Thai Long Bean Asparagus Bean



From Market to Garden

Cyote, Sinkamas, Rice planted for chickens?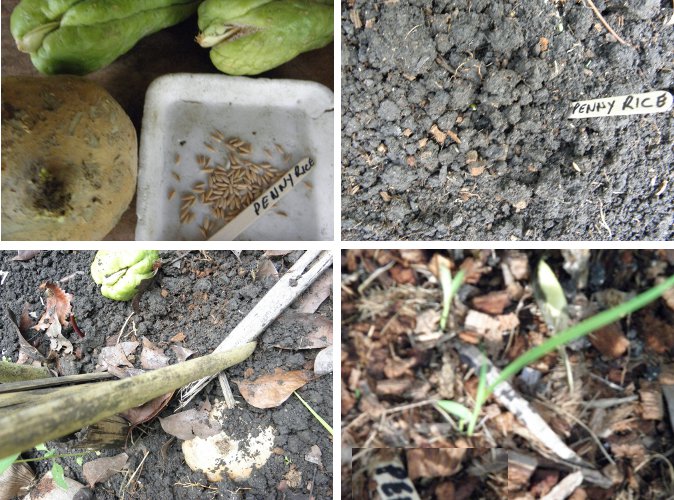 Newly put to bed And already growing


13 July:
Sowed in
H.1, H.2
and
H.3
(
after soaking for a few hours
)
a mixture of
Asparagus, Artichoke, Cardoon
and
Bush Beans.
Some
Penny Rice
and
Blue Bonnet Rice
were also sown
-and
Mesclun Salad Mix
in
H.3
.
Then broadcast a mixture of
Korean Hyssop,
Edible Chrysanthemum,
Wild Dagga
,
Marsh Mallow, Eggplant
and
Tomato
.
Somes seeds from the only mature
Amaranth
plant were collected and broadcast in the same area.
Fennelgreek
and
home grown
Burma Okra
were put in soak for tomorrow.
14 July:
Fenugreek Sweet Marjoram and Shisho Home-grown Burmese Okra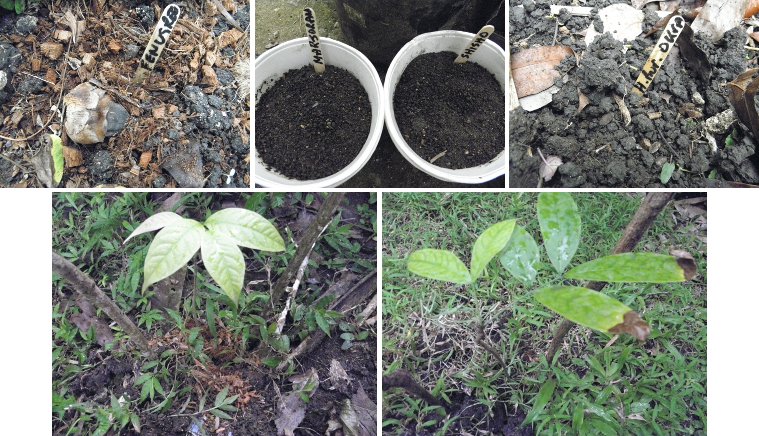 Unidentified Seedlings
Planted today:
Fenugreek
in
H.1,H.2
and
H.3.
Sweet Marjoram and Shisho
in
pots.
Home grown
Burmese Okra
in
V.3C
.
Also three unidentified seedlings found in a pot by the fishpond were replanted in various locations in the garden.
16 July:
In the Bloom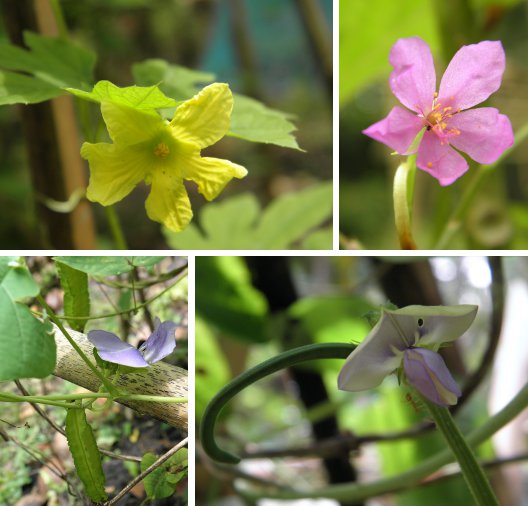 Winged Bean Cowpea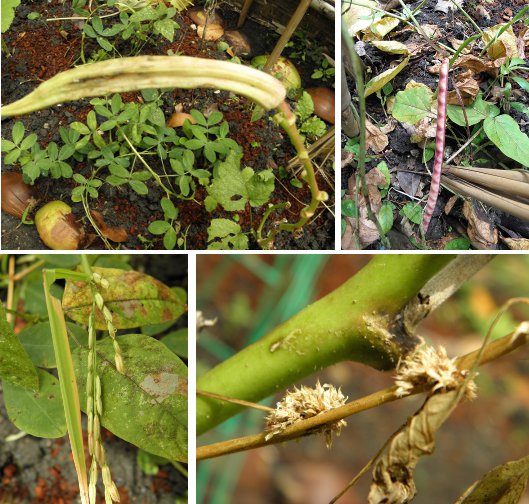 Unidentified Grain Amaranth


17 July:
Planted today:
Cowpea
in
V.4B, V.4C, V.4D
and
V.4E. Mung Beans
and
Peanuts
in
V.4A
and
V.4B.
An assortment of
Sweet
and
Hot Peppers
in the wild areas around the
Coconut Tree
near the chicken fence, the tree stump near the
Banana
patch and the
Orchid
area in front of the house
.
H.1
->
Stir Fry Mix, Carrot,
assorted
Radish
and the last of the
Chimese Chives.
H.2
->
Mustard, Carrot, and
assorted
Radish.
H3
->
Shisho, Sweet Marjoram, Caraway, Italian Parsely
and the last of the
Coriander
and
Kinchay.
Picked:
Burmese Okra
and
Cowpea
-both for seeds.
Fatima
harvested
Winged Beans
for dinner.
21 July:
Garden Vegetable
Sunday
Lunch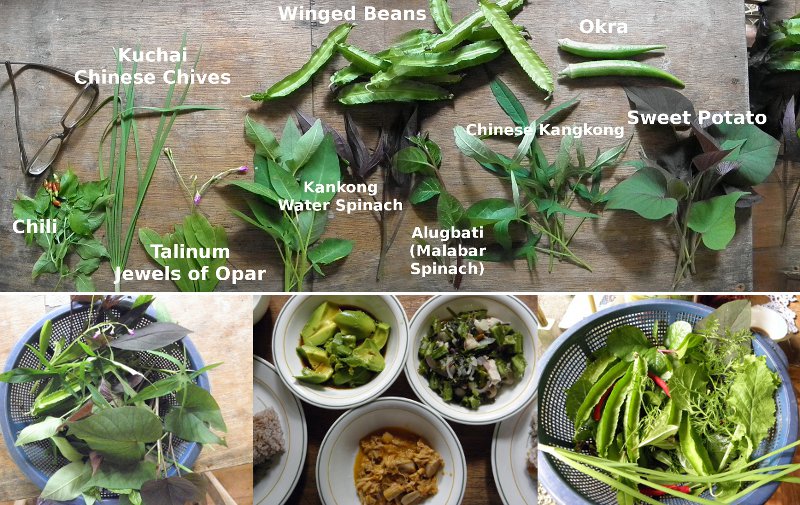 Avocado with Cooked Jack Fruit and
Winged Bean Salad
22 July:
Mini-garden or Garbage dump?
Front Back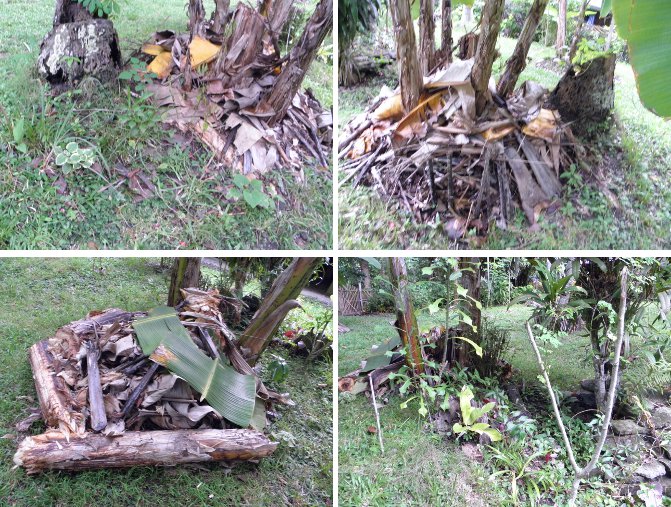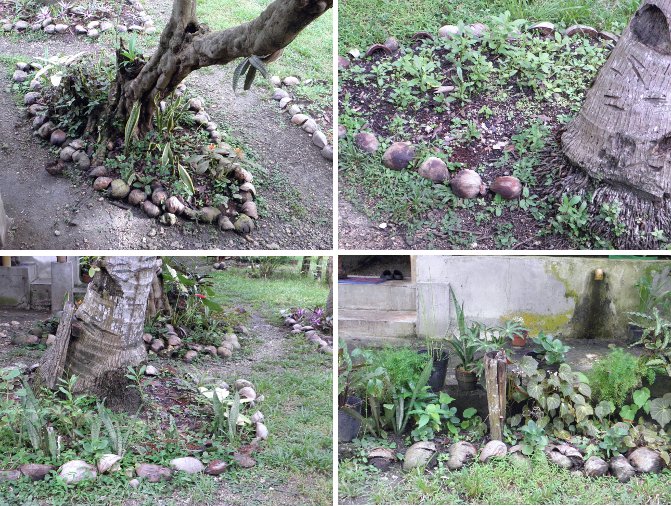 ..... and New Ones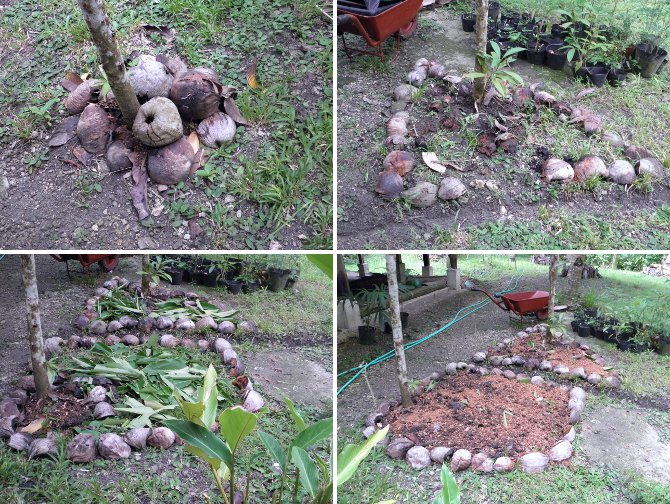 Today, I went out to plant some vine type climbing things in places where we have things for them to climb up. For my first stop I was intending to plant some
Cowpea
.and
Sitaw
(
Beans
) -both from saved seeds -under two
Lanzones
trees which we have inherited from the previous owner -but they have never fruited. I thought the beans and peas might add some natural fertiliser. However, as soon as I started looking for a place to plant, I realised that more work was needed.
We had piled up a few coconut husks around the base of the trunk -but further left them alone. The trees are close to the house and next to a path which goes between the main entrance to the house and one of the gates in the perimeter hedge.
Eventually, I ended up removing the husks that were not completely rotted away -and made a wider border around each tree. Then I trimmed a nearby bush -chopped up the trimmings a bit (which I then put around each tree) got some earth from a drainage ditch around one of the vegetable plots, mixed it with coconut chippings and covered the trimmings -filling the area within the coconut husk border...... Finally, I managed to plant a few beans and peas at the base of the trunks. By that time, it was already getting dark (I'd had to make several trips to get enough soil). The next step is to plant some flowers there. In most other such patches we have planted vegetables, or sometimes peppers -or a mixture of flowering veggies and normal flowers.....
During the rest periods, I took a few photos of some other, similar, mini-garden areas.
24 July:
Empty new mini-garden under Coconut Tree

Planted today:


Asparagus, Artichoke, Cardoon
and
Penny Rice
planted in
V.4A
and
V.4E
.
Mandarin
seedling planted just beyond the South East corner of the house.
Mung Beans, assorted (Hot and Sweet) Peppers, Radish (
Red and White
) Tomato, Pechay (
White and Green
), Cauliflower, Onion (
Red Creole and Tokyo White Bunching
) , Parsley, Shisho, Caraway
and
Sweet Marjoram
planted in empty new mini-garden under
Coconut tree
.

Improvements:
Enlarged compost area under rather tired mini-Coconut tree.
Corrected some mistakes in shape and layout of previous compost area linking
Banana
and
Coconut
trees near Southern path up to main entrance.
Improved Compost under mini-Coconut tree

Corrected Compost areas

25 July:
Snake Bean
(
saved from garden pant
),
Patola
(
from various sources
),
Upo, Ampalya
and
Cucumber
-in various locations around climbing frame area (
Snake bean frame plus row
H.2
and
H.3
).
26 July:
Went to the "
Sandugan
" small agricultural fair in
Tagbilaren
with
Fatima, Penny
and
Terri
. Bought 100 gram of (
compost
)
Worms
, plus some
Decorative Plants
(
small light bronze

Chrysanthemum

, "Centipede"

Cactus

, Mini Pink

Carnation

and some "Butterfly"

Mayana
), a
Dragon Fruit
cutting (f
or the genetic variety
) and six (free) Pineapple tops.
We'll try to multiply the plants (and the worms) so we can share them around locally.
However,. we've been planting Pineapple tops now for about three years -and still no sign of any fruit, even though some plants are getting quite large.
On return,
Penny
and
Terri
cut down two
Banana
trees with fruit -one of which was quite large and has been leaning dangerously towards the neighbour's electricity supply cable. Luckily, with me pulling on a rope, we managed to get it down without causing any damage.
27 July:
Planted the Pineapple tops in various locations. Left the
Decoratives
until Monday -so
Penny
and
Terri
can enjoy planting them.
29 July:
Its been raining a lot recently.
Terri
didn't come to work this morning because of the rain. By about 10:30 it was very windy and then cleared up a bit. However, when the sun shines, it is good growing weather.
When the rain stopped, I cleared up the fallen
Coconuts
. We have quite a large pile of windfall now.
Penny
cooked some
Bananas
in
Coconut Milk
for afternoon
merienda
.
Old and New "Instant" gardens

Planted 12 June Planted 24 July
Before merienda, I transplanted some
Chili
seedlings growing in the first "
Instant Garden
" under the
Coconut
tree near the house. I'm trying to get the
Chili
plants to grow more in the "
wild
" areas outside the vegetable patches.
The Great Sayote and Sinkemas Race

Penny -Sayote planted 22 July Trevor -Sayote planted 11 July Sinkemas -No contest!
Penny planted her
Sayote
22 July
in the old
compost heap
, I planted mine
11 July
by the
Winged Beans
. Hers is much bigger. However, the
Sinkamas
that I also planted there has already grown quite large.

The
Ampalya
(
photographed 16 July
) has not fruited -probably because there are not enough male and female flowers at the same time. The
Winged Beans
and the
Cowpea
have long been harvested (
and more of both are still growing
). The
Talinum
is also spreading nicely.
31 July:
Artichoke, Cardoon
and
Asparagus
in
V.1A
and
V.2A
(
edge of Winged beans climbing frame
)
Herb Collection
-
Caraway, Sweet Marjoram, Purple Shisho, Lions Tail, Korean Hyssop, Marsh Mallow
around the
Chicken Fence
(
on both sides of the path
), Some patches of grass were cleared first in some areas to encourage germination.
Herb Collection
-plus
Delphiniums, Cornflower
and local "
Mums
" in the new areas under the
Lanzones
trees (where
Terri
has also planted some cuttings from the
Decoratives
bought at the
Sandugan
fair last
Friday
).
A few (
new
) market
Squash
in "
compost
" areas under
Coconut Trees
.
White (
Macapuno
)
Maize
in sunny patches in
Heritage
area.
Upo
in various places with climbing frames.
Finally, assorted
Eggplant, Red
and
White Radish, Carrot, Tomato (
Seeds of Hope
), Mesclun Salad Mix, White
and
Red Onions
plus
Cucumber
in
T.1A, T.1B, T.2A, T.2A, T.3A
and
T.3A
. Before broadcasting, some ground covering weeds were removed, some were left and some were covered with chopped
Coir
.
Vegetable plots before re-seeding
T.3A T.3B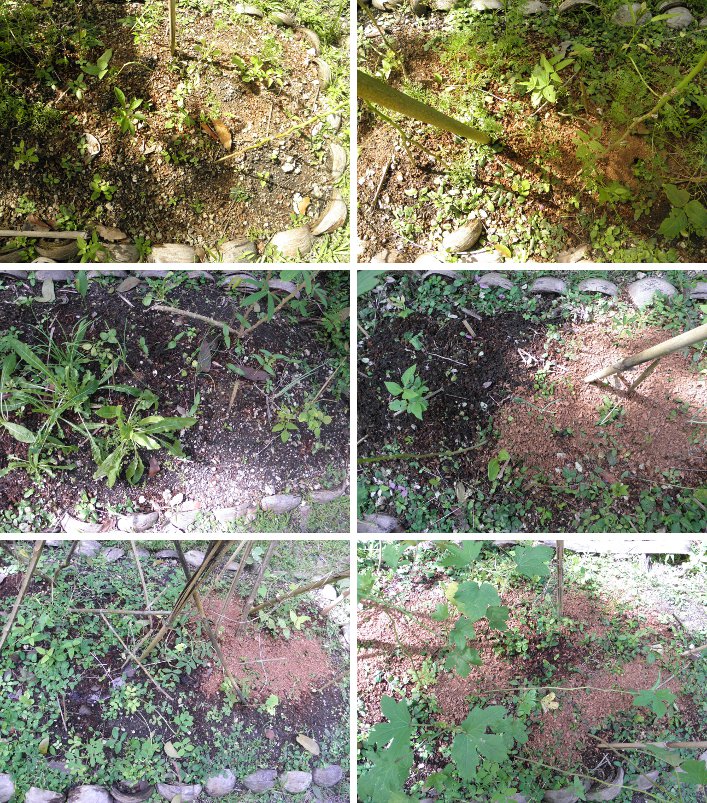 T.1A T.1B
---
---
Trevor Batten
<trevor at tebatt dot net>
Baclayon 2013
home
---