Tropical Heritage Garden Diary:
June 2013:
1 June:
The last mini-floating garden runs aground with a broken float.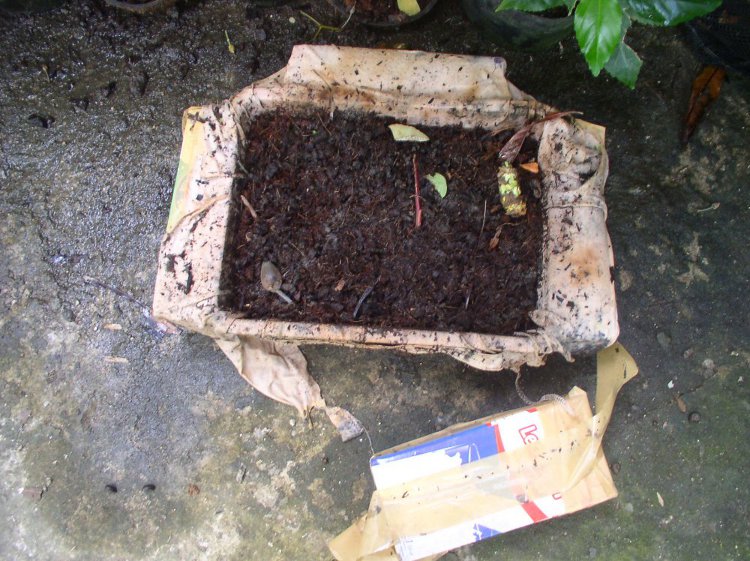 -definitely needs redesigning!
Young Citrus tree with compost and the monster Durian seedling!



2 June:
This weekend, I spent almost the entire weekend watering the garden: Not because the garden is so big -but because when I water the garden myself, I'm able to see what is happening in the garden and make small interventions that often have a positive culminative effect.
I guess the British call this "pottering": An aimless (
but creative

) shifting from one spontaneously invented task to another, according to some intuitive set of priorities that only reveal themselves through the process itself. As part of the process, I'm able to observe closely how plants grow in their various environments and this understanding helps me with planning and planting.

Yesterday, I put around several young

Citrus

plants green, immature, coconut husks -thrown down from the trees by rats or bats, who like to eat the soft fruit inside. The husks provide a slow form of compost to the young plants and perhaps help preserve the moisture in the soil around the young tree's roots. Today, I also trimmed and thickened up some of the hedges -especially where Terri has placed a kind of temporary fence made from fallen coconut branches (

Lukai

) to stop local dogs and our chickens destroying the plants to make entrances and exits.

The recently sowed

Banana patches

seem to be responding nicely -so that encouraged me to continue. Today, I sowed heritage

Miriah Amaranth

and

Black Seeded Sesame

plus

Red Creole Onion

and

Tokyo Long White Bunching Onion

in both the new patches.

The earlier transplanted heritage

Onion

seedlings

(in one of the two patches)

seem to be surviving quite well.





Before sowing, I collected a handful of

Narra

seeds

that had blown down from a neighbour's trees onto the small

Banana

patch.

Narra

are supposedly rare and protected trees -but they are like weeds here in the garden. I'm sure one could populate the whole island with just the seeds found in our garden. The same is true of Mahogany -it is virtually a pest -and yet I hear of western

"Green"

tree schemes raising money to plant them in Asia.





I also planted some seeds saved from our own

Okra

(of unknown heritage)

in patches

N.1A, N.1B

and

N.1C

-in order to help prepare the ground and provide some shade for seedlings when they are sown later.

With the last of the mini-floating gardens falling apart -it looks as if the whole concept will need to be rethought.





New Seedlings (

sowed end of May

) growing in Banana Patch




Squash and peanuts Red Radish(?)
Narra seeds collected from Banana patch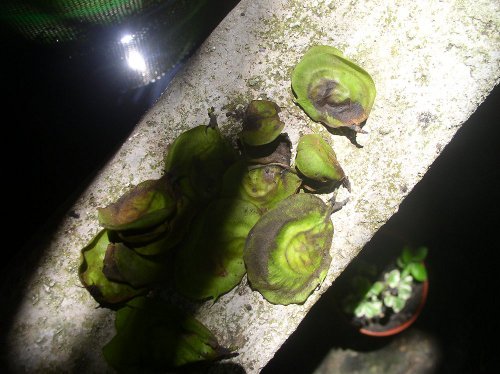 4 June:
Lots of rain today. After the rain, a mixture of (
Known You
)
Red Radish
, (
Chinese
)
Carrot
and (
Seed of Hope
)
Tomato
were broadcast in areas
T.1A, T2A
and
T.2B
.
5 June:
Cucumber time! More rain in the morning. After lunch planted the two remaining
Poona Khera Cucumber
seeds in
BP.2
(the other Banana patch which is not on the

May

map), (Chinese)
Cucumber
in BP.1 (
the Banana patch which is on the

May

map) -
and birthday
(Known You)
Cucumber
in areas
N.1A, N.1B
and
N.1C
.


Seeds from
Burmese Okra
, house
Okra
and the market
Squash
(eaten for lunch)
were saved for drying and planting.
A start was also made with
marking out a new mini-garden under a coconut tree near the house.
The chickens continue to devastate any attempt to grow climbing vegetables on the fence of the chicken pen.
Seeds and Fences:
Burmese Okra Starting a new mini-garden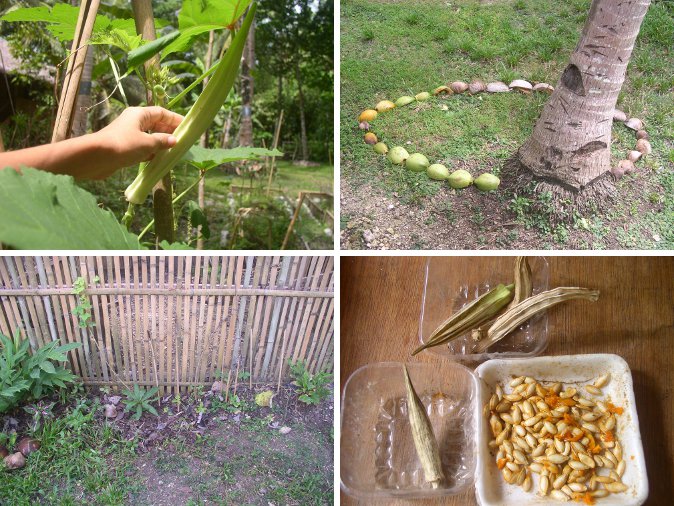 Life on the Chicken Fence Collected Okra and Squash
Seeds
7 June:
Fallen Fences, Frames and Nets
-Lots of work to do in the Southern garden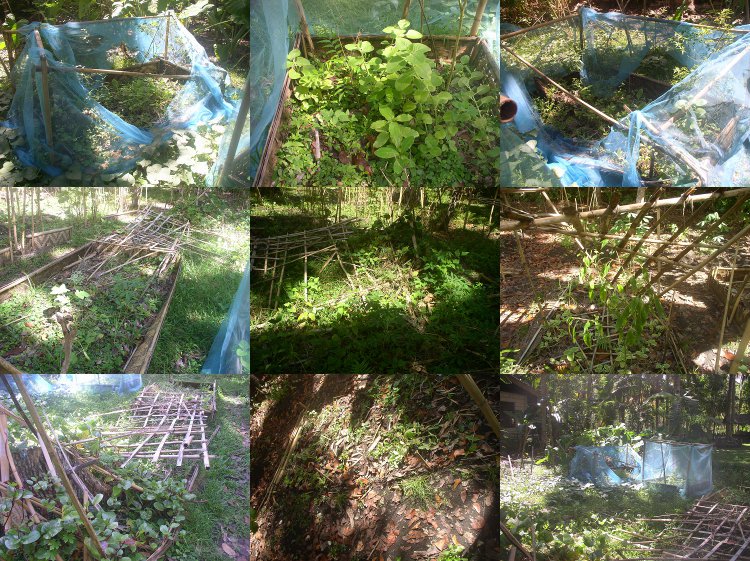 Worked today on tidying up the fallen fences, frames and netting in the southern garden -which has been somewhat neglected due to the drought.
At the end of the day, planted some of the (
local market
)
Squash
seeds drying on the balcony. Also broadcast some
Dragon Mix
in the
second Banana Patch
. Noticed that the
Poona Khera Cucumber (
planted 5 June
) and the
Zucchini-Gray Squash
(planted 30 may)
were starting to sprout
.
The
Durian
continues to flex its muscles -but is not yet free of the ground.
Tonight, it rained quite heavily.
We are still waiting for the new seeds.
8 June:
Rain all day today. The Durian is now free of the ground -but not yet free of the shell.

9 June:
Prepared patch
V.3E
(
next to the compost heap -see May for map
) and redeveloped an unmarked patch between
V.1C
and
V.2C
.
Burmese Okra
was soaked for about 4 hours and planted in
V.3E
and
V.3C.


3
Patola
(from Catigbigan
), 4
Ampalya
(
from both Jose and Naning in
Catigbigan
), 2
market Squash
(
still being air dried
), 2
Cucumbers
(Known You)
and 5
Thai Yard Long Beans
were planted in the new patch (
see photo
).
Preparing the Ground
A new patch
for climbing plants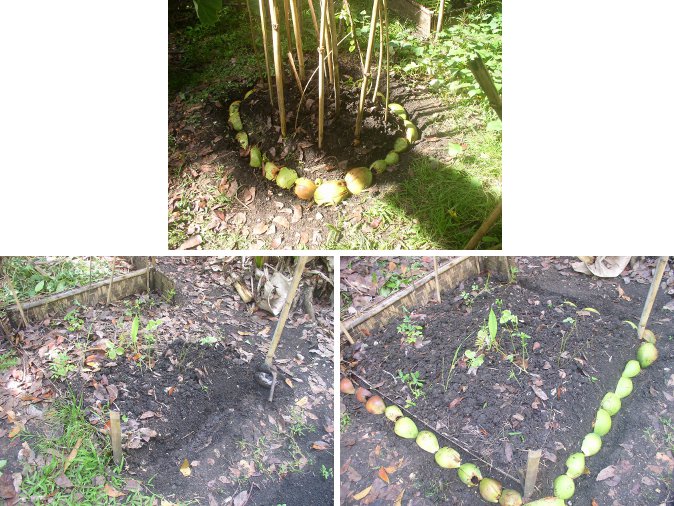 Earth from drainage ditch used to cover organic matter to make mulch (
V.3E
)



Baby Dragon Fruit -and the Durian Rises!

10 June:
Terri repaired the climbing frames in
V.1A
and
V.2A
. The
Winged Beans
seem to be recovering there.
Assorted
Hot
and
Sweet Peppers
(including the last two Heritage

Red Marconi

Sweet Peppers

)
,
Amaranth, Black Sesame
and
(Chinese)
Carrot
and
White Radish
broadcast in
V.3E.


11 June: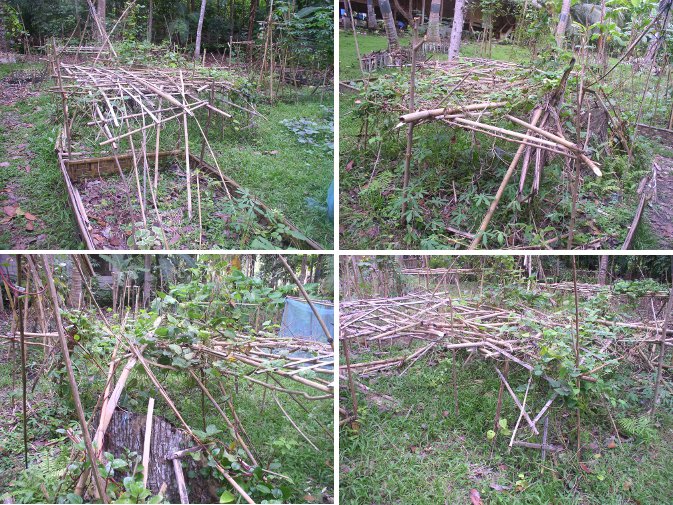 No rain today. Watered parts of the (freshly sown) garden -until the water pressure became too low.
Terri rebuilt the climbing frames.
Planted
3
different types of
Luffa
(
Known You Angled Luffa, Chinese and home grown
) around the various climbing frames and added a variety of different (
home grown
)
Winged Beans
(
of various vintage
s) along the chicken fence and where they were already growing but not flowering.
12 June:
Just add (optional) Compost, Earth................ and Plants

And another small hill of beans.............. Down in the jungle somewhere

Planted assorted
Sitauw
(
long beans
),
Angled Loofah
(
known You
), various
Cucumber
and (
market
)
Squash
in the new bean hill.
Two
Patola
(
of different origin
) were planted by one nearby
Ipil-Ipil
tree and two Ampalya (
of different origin
) were planted by another, so they can grow up them.
Assorted
Sweet Pepper
seeds were planted behind the
Coconut
in the chicken fence garden area
.
Finally,
Chinese Chives
(
Known You
),
Rocket
(
the last remains
),
Chinese Chay
(
Kangkong
) ,
Green
and
White Pechay
,
Chinese Mustard
and assorted
Hot Peppers
were broadcast in the
"Instant Garden"
created by Penny. Then some cuttings from the
Talinum
(
given to us by Terri earlier
) were planted to kick-start the garden.
13 June:
Young Chico seedling -and the Durian struggles to break free

Pepper Plots
(Hot or Sweet?)

Second Chicken Fence..... the other side...... and the stump
Planted both Hot and Sweet Peppers in the above locations.
Also improved two planting hills in the undefined area between
V.1C, V.2C
and
V.2E.
Planted
Cow Peas
,
Patola
and
Cucumber
(
Known You
)
15 June:
Young Mandarin seedlings -and the Durian heads for Space

Awakening Seeds?
Early Risers Late Sleepers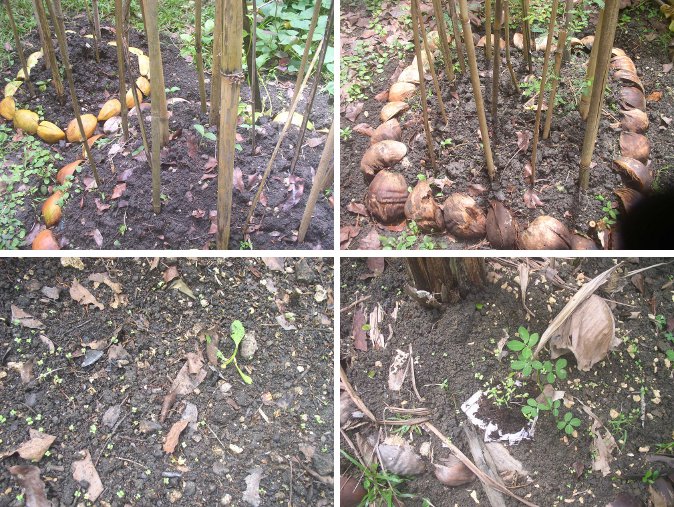 Instant seeds or weeds? The Mini-garden is firmly grounded
Planted heritage
Squash
(
Zucchini-Gray, White Bush Marrow and Seminole Pumpkin
) in various (
labeled
) locations around the Northern garden (
N.1B, N2A, N.2B
). So far, only one
labeled
Zucchini-Gray
(
planted 30th May
) seems to be sprouting under a banana tree.
Also started planting
Peanuts
to improve the soil in
V.4C, V.4D
and
V.4E
-but rain stopped play.
18 June:

Terri's new climbing frame -and a natural climbing frame

Terri's new climbing frame was planted with extra
Patola
(
Loofah
) and
Ampalya
(
Bitter Gourd
) -where it extended the original frames.
19 June:
Young Lanzones -and the Durian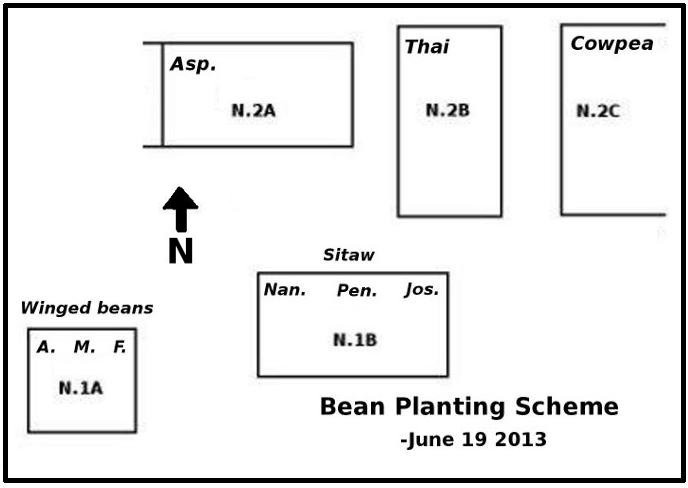 A Competitive bean feast
:
Thai Long Bean, Asparagus Bean
and
Cowpea
(
first and second generation
)were planted in the Northern garden. Also three different batches of
Sitaw
(
Native Yardlong Bean
) -from Naning and Jose in Catigbigan plus our own home grown (originally from Penny). Also three batches of homegrown
Winged Beans
(
from February, March and April
). See diagramme above.
While planting the beans, I noticed that the (
market
)
Squash
growing on the compost heap is now starting to flower. This prompted me to plant around a dozen assorted market
Squash
in various mini-compost heaps under more
Coconut
and
Banana
trees. Unfortunately, the remaining heritage
Squash
growing on the compost heap seems to be dying. Perhaps in the winter it will be cold enough to plant imported
"summer"
Squash
here.
Also some
Lychee
seeds (
from fruit bought in the supermarket
) were planted in pots.
Additionally, a
Dragon Fruit
seedling (
also from supermarket fruit
) was transplanted from a pot to where two larger cuttings (from a neighbour) have been planted earlier.

20 June:
Finally Arrived!
One month after dispatch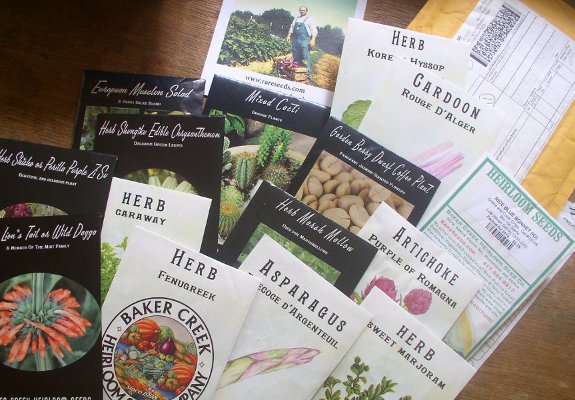 Some of the newly arrived heritage seeds might prefer the shade offered by a mini-garden under a tree.
So, the mini-gardens by the house were slightly reshaped and planted with both local "
mums
" and newly arrived
edible Chrysanthemums
.
In order to get some extra soil (
to mix with seeds when broadcasting them
), the last row of the Southern garden (
V.4A - V4E
) were cleaned by removing the fallen
Mahogany
leaves (
which were thrown onto the Cassava patch along the Southern hedge
). Some soil could then be taken from the drainage channels around each patch.
Penny
, our household helper, found some viable
Rice
seeds while sieving the rice for lunch. So (
as a test run for the
Blue Bonnet Rice
) some was planted in
V.3C
and
V.3E
-plus
N.1B
and
N.2D
.
Reshaped mini-gardens
Planted with local "mums" and newly arrived edible Chrysanths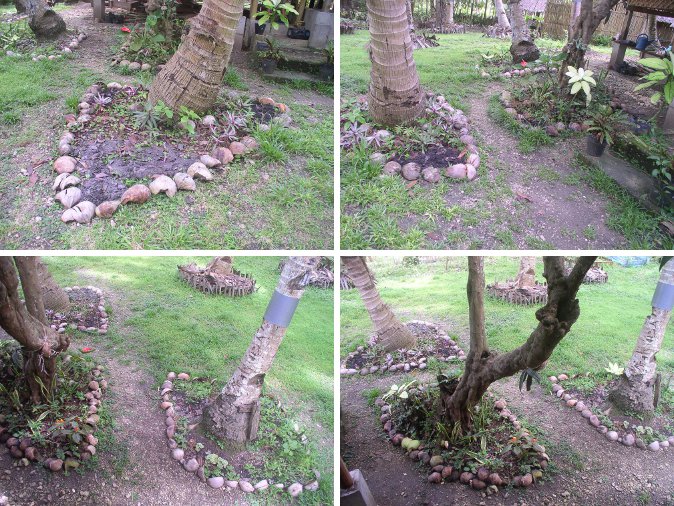 21 June:
Bed News!
Tidy beds....... . late sleepers rising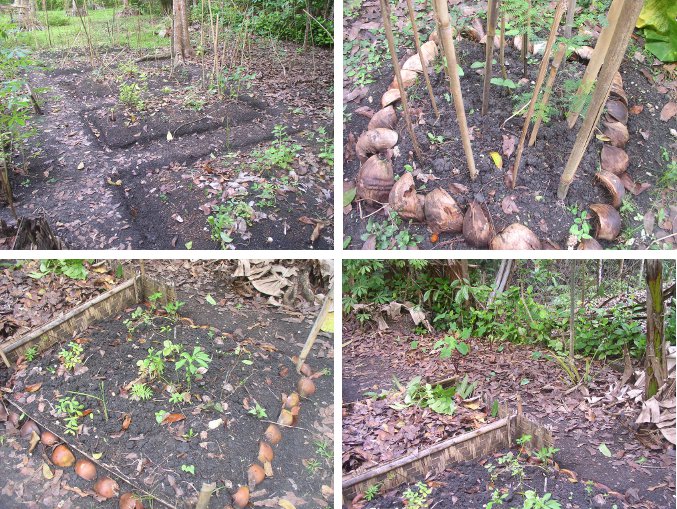 newly sown....... and Purple Taro along the hedge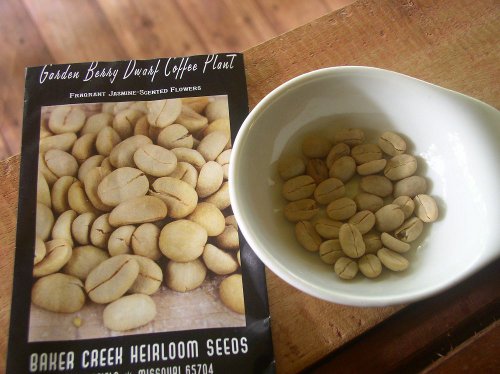 The planting instructions said coffee beans don't store well and they should be planted as soon as possible, So today, everybody (
Terri, Penny, Fatima
and
myself
) all planted
Miniature Coffee
beans (
after soaking them for 24 hours
). I planted most of mine along the hedge, in the area of the pig pen, with some under a
Banana
tree. The others I planted around an old tree stump, also near a
Banana
patch. Now we may have to wait up to four months to see if anything happens.
A lovely bunch of Bananas
Food for us........ the baby pup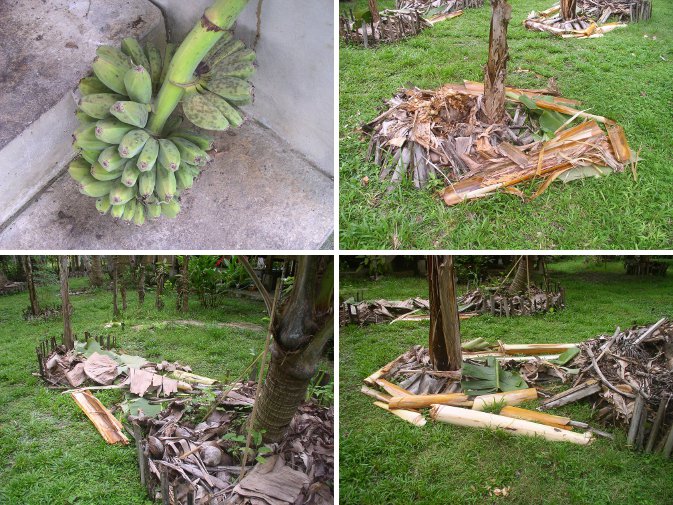 ...... and the neighbours
Penny
and
Terri
have harvested some
Bananas
by cutting down the tree (
which otherwise falls over
after fruiting
).
Fatima
is experimenting with fermenting some of the trunk (
in combination with other things
) for chicken feed. The rest of the trunk was used as compost for the next generation of Bananas.
Some of the
Dragon Stir Mix
and the new heritage
Mesclun Salad Mix

were planted in two different (

labeled

) areas in

V.3E

(see today's photo,

newly sown

-and renovated plot, 9 June) and the other

banana mini-garden

(

not on the map

) as a test run.
Finally, some more (

local market

)

Squash

were planted (

mostly along the Northern hedge

) where it has a good chance to climb.
22 June:
Planted heritage
Wild Dagga, Korean Hyssop
and
Marsh Mallow
in various sunny patches around the house.

Refrigeration plants....... and Sauna plant
Although the
floating mini-gardens
have not been successful technically (
i.e. sinking, capsizing or simply falling apart
) they did appear to be successful regarding germination of certain "
difficult
" seeds. As a result, I'm now experimenting with a new non-floating variation.This involves two polystyrene pots -one inside the other. The inner, earth filled, pot has holes in the bottom and a strip of cloth inside which covers the bottom and hangs out over the top edge. The outer pot is filled with water. The idea is that water inside is sucked up by the cloth and allowed to evaporate -thus reducing the local temperature. Three pots have been constructed and planted with (
non-heritage
)
Parsley, Kimchay
and
Coriander
. Perhaps a second strip of cloth could be added inside the outer pot -to increase evaporation rates. Water from the
Tilapia
pond is used to water the pots -as this presumably contains extra nutrients produced by the fish and other pond creatures.
Some (heritage)
Mixed Cacti
were also potted in a specially prepared mix of sand and garden soil with a few bits of chopped coconut husk.The seeds were mixed with a small amount of sieved soil and then broadcast. The (
plastic bonsai
) pot was then put inside two plastic bags to preserve moisture and placed under the house to germinate.
Young Avocado seedling -but the Durian still struggles

Leading in the "
Bean race
" (
planted 19 June
) seems to be the plants that seem to have the most trouble dealing with the heat. First out the ground are the
Asparagus Beans
, followed by the
Thai Purple Yard-long Beans
. Until now, the
Asparagus Beans
appear to have been the least productive of all. Perhaps the change of
season,
and/or the change of
location
(
from Southern garden to Northern garden
) has changed the game somewhat.
26 June:
Penny's new pig -and his housemates

27 June:
Another Avocado -and the Durian struggles on

28 June:
Another Plot with compost and soil
Linking Banana and Coconut
trees

Some of the Banana trees were looking a bit poorly -so we tried improving their environment.

Garden in the rain

Looking South Looking North

When the rain stopped, planted
Artichoke
and
Cardoon
in
T.5A, N.1A
and
BP.2
29 June:
A failed harvest but still useful as food for the pig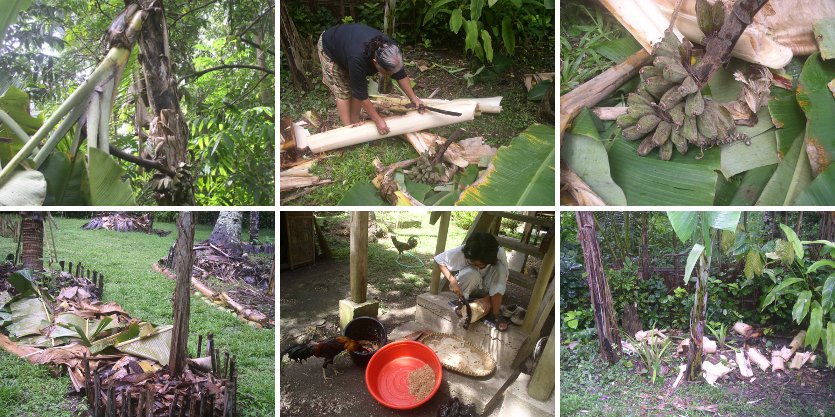 the neighbours fermented chicken food ...and the siblings
30 June:
Newly sown -and protected against chickens

A drainage channel was dug around patch
V.3D
and the soil thrown up onto the plot to cover the weeds. It was then sown with a mixture of seeds including
Asparagus, Artichoke, Cardoon,
Korean Hyssop,
Edible Chrysanthemum,
Wild Dagga,
Mesclun Salad Mix and Bird seed.

Some
Mesclun Salad Mix

was also broadcast in

T.2B

and

T.5B

.

Mung beans were broadcast around the roots of several seedling trees -as green manure.


---
---
Trevor Batten
<trevor at tebatt dot net>
Baclayon 2013
home
---