Tropical Heritage Garden Diary:
December 2020: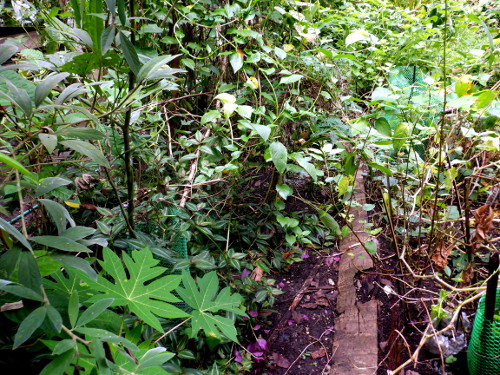 December 01 - 04: Knocked out by fever -the missing days....


Meanwhile, Workmen Build us a New Gate and Repair the Pig Pen



Photos: Fatima Lasay


....and the Garden Continues Without Me



Photos: Fatima Lasay


December 04 - 05: The Struggle to Re-hydrate and Regain Energy


December 06 - 07: Recovery Continues

December 08 - 10: A Few Quiet Days of Rest and Relaxation



December 11: Weird Weather While I Attempt to Start Work Again



December 12: Penny Harvests Bananas and I Plant Some Seeds



December 13 - 16: After the Rain the Debris Needs Removing


December 17: The Garden Seems to Be Surviving Despite My Non-Intervention




December 18: Tropical Depression in Mindanao, So I Get to Work on the Computer


December 19: With the Storm Over Trimming and Feeding Continues


December 20: Cleaning and Trimming Again


December 21: Trimming, Feeding and Transplanting

Food for Today Or Investment for Tomorrow?





Preserving the Future



December 22: Giving Old Seeds a Chance to Grow

....and a Bit More Trimming


December 23: Trimming Again

Then Rain


Another Harvest of Passion Fruit


and More Mini-Greenhouses Sown

December 24: Still Trimming


December 25: Rainy and Overcast

December 26: A Lovely Day for A Holiday!

December 27: Raining All Night and Another Overcast, Lazy, Day -Not much debris to clear

But we do Have a Giant Caterpillar in the Garden



December 28: A Trip into Tagbilaran to get Cash and Groceries


December 29: Recovering from Going Out Yesterday for the First Time this Month


December 30: Back to Trimming

and Removing Some Debris





in Rain and Sunshine



December 31: With A Wet End To The Year


---
2020
January
February
March
April
May
June
July
August
September
October
November

2021
January

---
Trevor Batten
<trevor at tebatt dot net>
Baclayon 2020
home
---